To publish 2021 third quarter results before market opening on Tuesday, April 20
Income Expectation: $ 17.97 billion
Profit Per Share Expected: $ 1.19
When consumer products provider Procter & Gamble (NYSE 🙂 releases its final quarter results tomorrow, investors will focus on whether the US economy reopening can end the Cincinnati, Ohio-based company's current, impressive growth streak. Behind it was the consumers' stockpiling of basic products and increasing the importance they give to hygiene products during the period of epidemics and restrictions.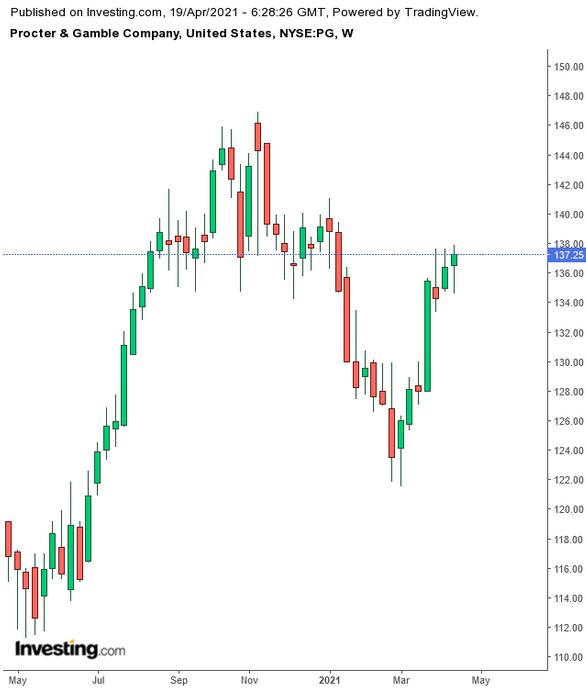 PG Weekly TTM
This uncertain outlook is perhaps the primary reason why P&G stocks have not shown much movement this year, following impressive gains in 2020. The stock, which fell nearly 1% this year, closed Friday at $ 137.25. In the same period, it increased by 11%.
Another factor that could pose some challenges to the company is the increase in the costs of materials such as plastic and aluminum, and how to deal with these inflationary pressures.
A measure of the wages businesses receive for their products and services, it rose 1% in March, according to the U.S. Department of Labor's announcement this month. ,, industrial chemicals, diesel and liquid plastic were among the materials with the highest price increase. The inflation benchmark completed March with an increase of 4.2% compared to a year ago, recording the highest 12-month increase in the last decade.
If history offers a clue, inflation actually increases the profitability of the "blue chip" companies. According to a Wall Street Journal report citing Jonathan Golub, chief strategist of US stocks at Credit Suisse Group, the rise in material costs generally indicates a rise in profit margins. Golub:
"High input costs are generally accompanied by widespread economic growth, and this growth allows companies to cover additional costs with price increases they apply. Also, fixed expenses such as factory equipment can be distributed to higher sales."
The latest direction P & G offers is that this trend will not disappear soon. The company said in January that it expected organic revenue to grow by 6% in fiscal 2021, which was less than 5% from the previous forecast. P&G also expects core earnings per share to increase by as much as 10% compared to the previous 5-8% forecast.
P&G management believes that some of the habits gained during the COVID-19 period will become permanent and offer long-term support to the company. "Consumers' focus on health, hygiene and housekeeping has permanently changed," CFO Jon Moeller told Bloomberg in January.
"Demand may not remain exactly where it is today, but it is difficult to imagine that demand for products such as hand cleaning will return to old levels."
Result
The pace of growth P & G recorded is not sustainable for a consumer products company. It wouldn't be fair to expect a great quarter-at-a-time performance from a giant like P&G.
However, P&G stock is still our favorite choice for long-term investors seeking revenue. With a 2.53% dividend and a quarterly payment of $ 0.87 per share, the company is one of the highest dividend earnings in the United States. In our opinion, every weakness should be considered as a buying opportunity.