When we look at the performance of Tesla (NASDAQ 🙂 shares, we see that investors do not expect a significant competitive threat to the electric car manufacturer in the near term. Tesla is still one of the top performers in the past 12 months, even when we take into account the recent weaknesses that have been straining high growth companies this year.
Tesla investors are pleased to see the world's most valuable electric car company moving smoothly towards its production goals. The company announced to investors this month that it delivered 184,800 vehicles worldwide in the first quarter of 2021, compared to 180,570 vehicle deliveries in the fourth quarter.
"We are encouraged by the strong welcome of Model Y in China, and we are moving fast towards full production capacity," the company said. According to Tesla, the new Model S and Model X were "well received" as well, and the company is still in the early stages of accelerating production.
As the California-based company continues its growth journey, some serious competitors have also entered the market. While traditional automakers such as Volkswagen (OTC 🙂 and General Motors (NYSE 🙂 are stepping up on electric vehicle development, smaller Chinese startups such as io (NYSE 🙂 and Xpeng (NYSE 🙂 are also attracting consumers who follow the technology closely.
VW launched its new Audi Q4 e-tron this week to compete with Tesla in the rapidly growing compact crossover SUV market. The vehicle, which will be offered for sale in Germany starting from 41,900 euros ($ 50,200), will offer a battery range of up to 520 kilometers.
Apart from this model, the German manufacturer plans to introduce several new electric vehicles such as the VW ID.4 and the electric version of the Porsche Macan. VW plans to sell approximately 600,000 vehicles this year that run on battery only. The Q4 e-tron is based on the architecture for VW's large-market electric cars called MEB, and according to auto analysts, this architecture offers serious competition against Tesla in some important respects.
$ 150 Price Target
According to Deutsche Bank, Volkswagen could surpass Tesla in electric vehicle sales as early as next year, thanks to the success of its electric car strategy.
According to analysts led by Tim Rokossa, if the market applies as high valuations to VW's electric vehicle division as it offers to Tesla and Nio, the value of this division could reach around 195 billion euros, exceeding the company's total value. Analysts raised their price target for VW shares by 46% to 270 euros.
As competition escalated, some analysts began to question the overly optimistic ratings for Tesla's stock. According to Roth Capital analyst Craig Irwin, who thinks the Tesla share is worth $ 150, although the company is only a "small player" in the general market, its market value of around $ 700 billion is close to the value of the automotive markets in the US and Europe combined.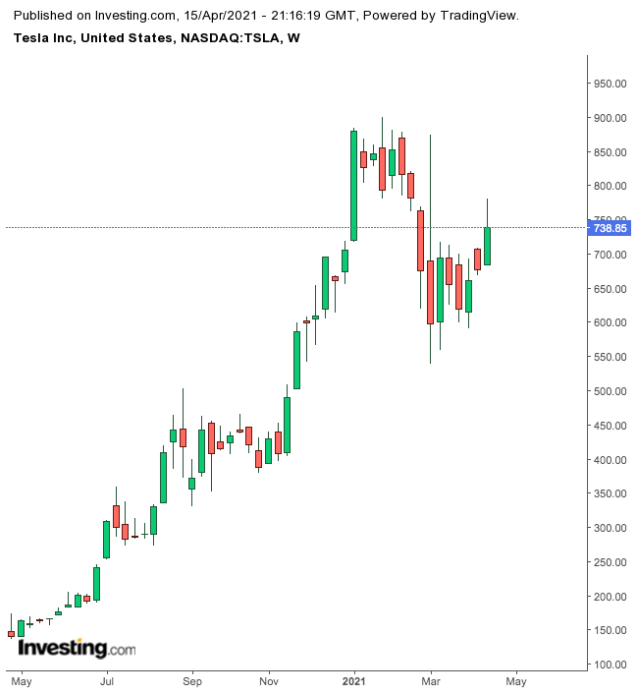 Tesla Weekly Chart
Irwin told CNBC this month:
"So I see it as a dislocation in the market. I think it's something that avoids fundamental analysis and I think there's enough room for many successful companies in the market. People just assume that Tesla has no competitors by giving it such a high valuation."
Result
Despite competitive threats, Tesla remains the most preferred electric car stock, and analysts' consensus price target for the stock is around $ 700. This means that investors are satisfied with the company's performance and outlook for the future. However, if new players challenge the dominance of the company by attracting consumers, it will be difficult for analysts to justify the continued rise in Tesla stocks. This is probably why Tesla stock has outperformed the overall market this year after impressive gains in 2020.