As US airlines begin to publish their 2021 first quarter results this week, all eyes will be on their predictions for the critical summer travel season that is expected to recover with the large-scale vaccination efforts in the country.
Early signs are that airlines will have a busy season after facing the worst crash in air traffic during the epidemic. Delta Air Lines (NYSE 🙂 announced last week that it had recalled all 1,713 pilots who were idle on April 1 before staff shortages resulted in nearly 100 flight cancellations.
The recall of pilots shows that US airlines are stepping up their efforts to prepare for a potentially busy summer as the number of people with the COVID-19 vaccine increases. United Airlines (NASDAQ 🙂 announced at the end of March that it would employ 300 new pilots to meet the increase in demand.
Delta will publish the first quarter results before the market opening on Thursday. Analysts' average forecast is $ 2.84 per share, with revenue of $ 4.02 billion. Investors will focus on the company's cash spending rate and potential signs of a business travel.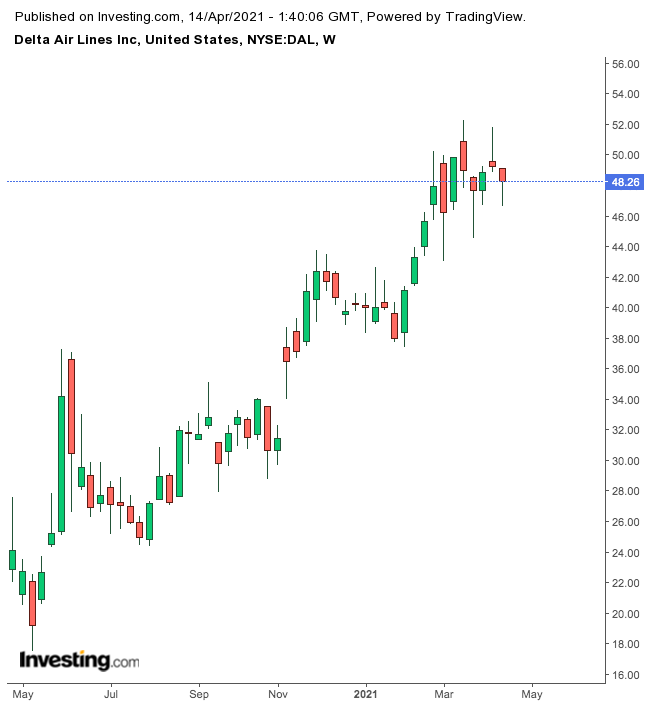 Delta Air Lines Weekly Chart
American Airlines (NASDAQ 🙂 warned investors yesterday that they could lose up to $ 1.2 billion in the quarter and that the recent increase in ticket sales could not prevent cash spending, ahead of the first quarter results to be released next week.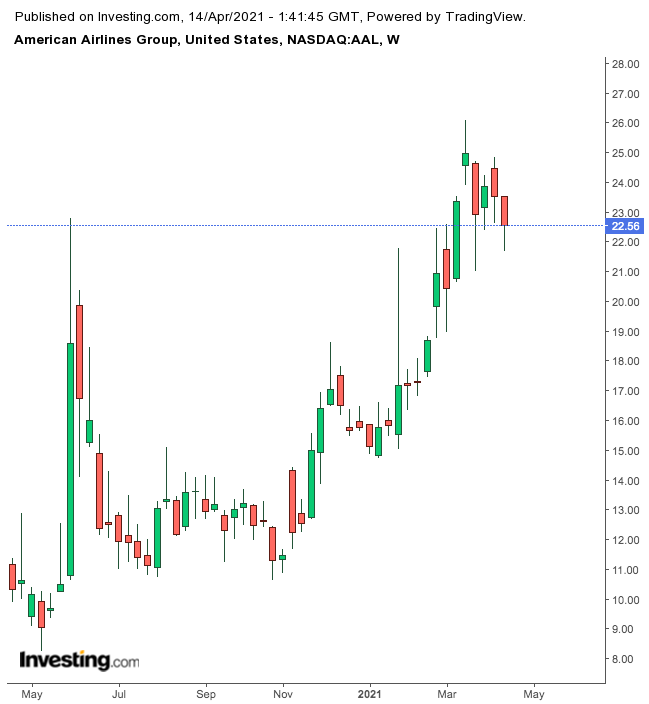 American Airlines Weekly Chart
Forth Worth-based American Airlines is the second largest airline after United to warn that the COVID-19 pandemic is damaging, a sign that repairing the financial damage caused by the epidemic, which virtually eliminated international travel, could take much longer than expected.
Signs of Revival
Despite these warnings, there are some promising signs that Americans are helping to reduce losses for airlines by traveling more within the country. On April 4, more than 1.5 million passengers passed through domestic flights security checkpoints. A year ago this number was only 122,029.
United and American said their planes were about 80% occupied. Delta said in a statement last week that "as more of our workforce is vaccinated and more pilots return to active flight," its reliability will improve this spring and summer.
A potential resurgence in air travel triggered a massive rally in airline stocks. With advances in vaccination efforts in November, airline shares soared, pushing up the US Global Jets ETF (NYSE :), the world's largest airline-focused ETF. The fund has gained 48% in the past six months.
This rally demonstrated investors' confidence that the successful development of vaccines will help improve travel demand, ultimately benefiting the biggest hit members of the stock market.
However, due to international travel bans and still weak business travel, a rebound in travel demand may not come as quickly or as strongly as some investors hoped.
Cowen analisti Helane Becker:
"Globally, for people to travel internationally, countries need to reopen their borders and reopen points such as tourist attractions. Airlines need economies and borders to reopen, and then the income problem will be solved by itself."
United Airline CEO Scott Kirby stated in January that there was plenty of evidence that there was a serious backlog of demand for travel, but Kirby was not confident that travels could start as early as this summer.
According to some estimates, there may be a 15% reduction in the business travel category due to the video-conferencing trend that became popular during the epidemic period.
According to Deutsche Bank, US airlines will continue to struggle, with a record debt burden of $ 170 billion. According to the bank, "airlines will have no choice but to devote a large portion of their free cash flow to debt payments."
Result
A sharp rebound in airline stocks shows investors confidence that people will continue their normal travel after vaccination. However, this optimism is highly reflected in the current share prices and leaves no room for an additional rise in the short term.
The new revenue reporting period will likely show that airlines have a long way to go to recover losses and return to profitability.