While the major indices of the USA are trading at record peaks, the excitement may be further increased as companies start to publish the first quarter results next week with signs of recovery in the country's economy.
Overall, earnings are expected to jump 25% compared to the same period last year in, according to Refinitiv data. This will be the biggest quarterly gain since 2018, when the tax cuts implemented under former President Donald Trump led to an explosion in profit growth.
The first quarter earnings reporting period will also help to eliminate some uncertainty about the future performance of technology stocks, which benefit greatly from the epidemic and stuck out period. If the tech giants continue to announce strong profits and revenues, this will be a sign that players can continue the gains they made during the COVID-19 pandemic.
Below, we have listed three stocks from different industries, which we will follow closely as the first quarter earnings reporting period begins:
1. JPMorgan Chase
JPMorgan Chase (NYSE 🙂 will publish its first quarter results on Wednesday, April 14, ahead of the market opening. Analysts expect $ 3.06 per share with sales of $ 30.46 billion.
JPMorgan, one of Wall Street's most powerful financial institutions, surprised investors by outperforming analysts' expectations in January despite the devastating economic effects of the epidemic restrictions on some businesses and consumers.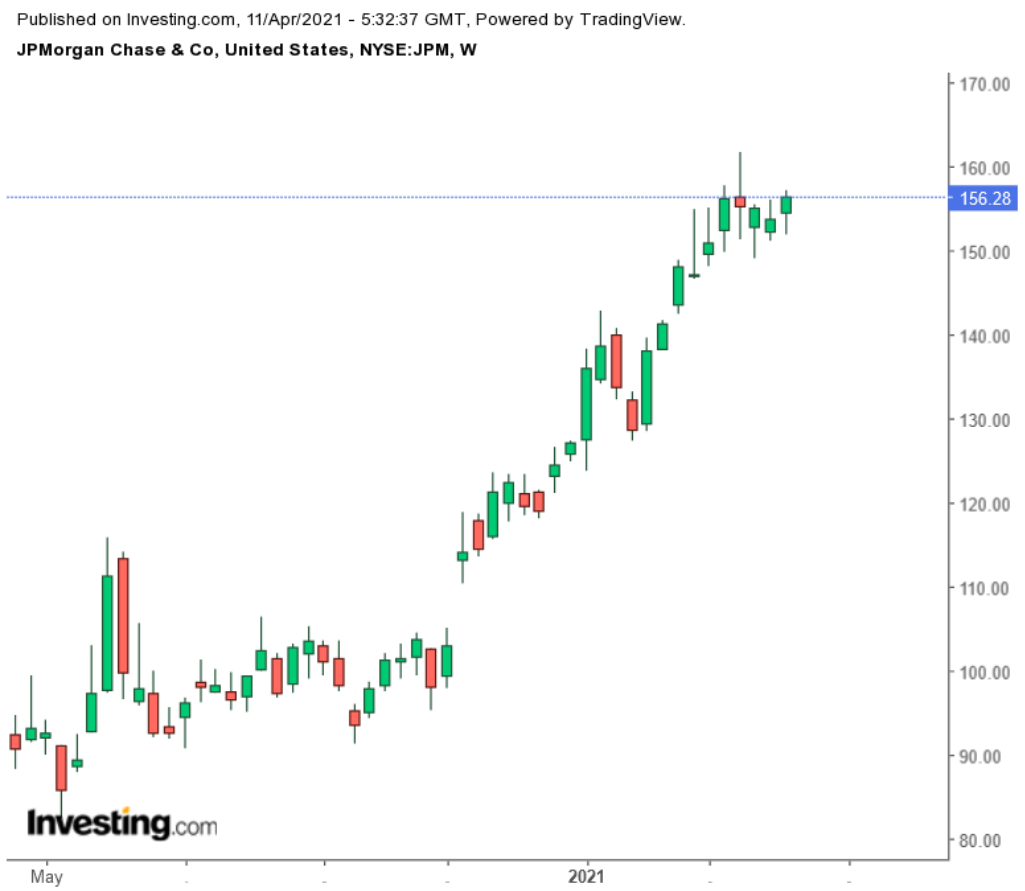 After a few bad quarters, the company is recording a rapid return to profitability with the help of its corporate and investment banking groups and the trading division. Investors will want to find out whether the volatility seen in the markets in the first quarter again helped the bank exceed expectations.
JPM stock closed Friday at $ 156.28, having recorded a strong rally so far this year as the recovery in the US economy gained momentum. Shares gained 23% in 2021, easily over the 9% performance of the S&P 500.
2. Delta Air Lines
Delta Air Lines (NYSE 🙂 will publish its first quarter results before the market opening on Thursday, April 15th. Analysts' average forecast is $ 2.84 per share with sales revenue of $ 4.02 billion.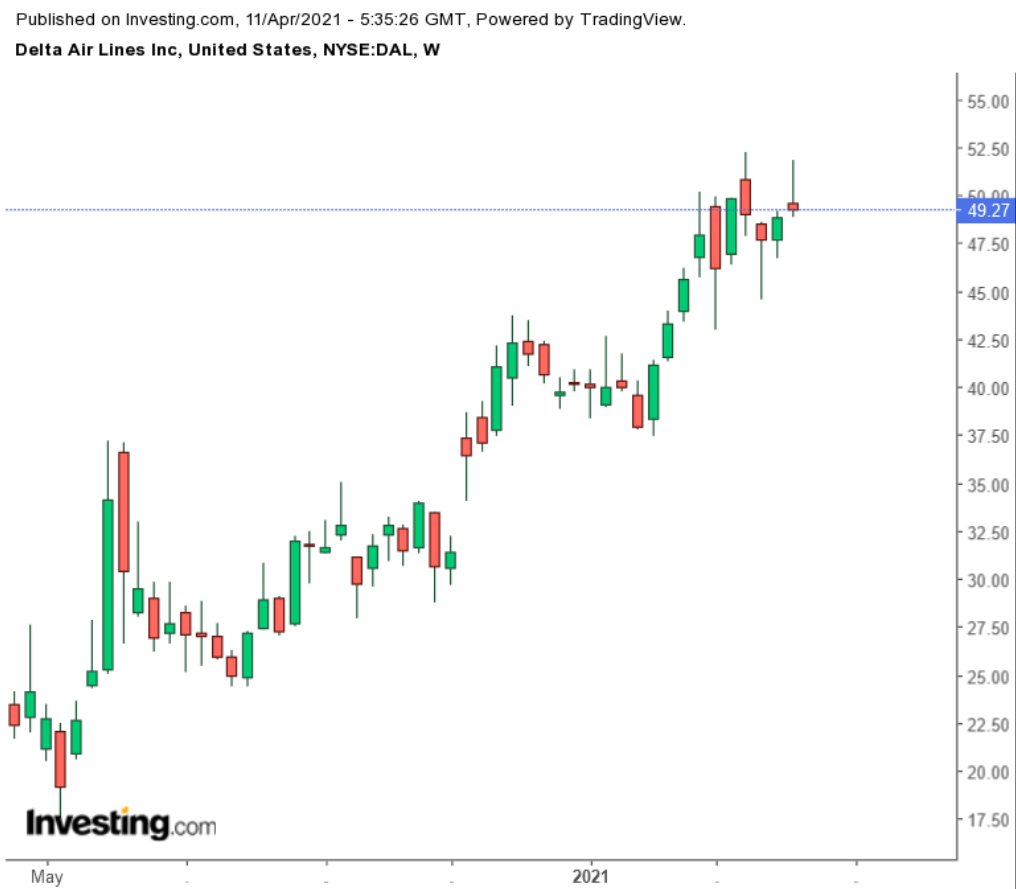 The global aviation industry is struggling to make a comeback after a devastating 2020 when air traffic collapsed due to the COVID-19 pandemic. Delta Air CEO Ed Bastian said that in January, there will be a "year of improvement" to employees, and the company continues to target for the spring. The latest data on air travel suggest that Bastian's expectations for a revival are perhaps correct.
Local air travel in the USA is recovering with the acceleration of corona virus vaccines. More than a million passengers have flown with Delta in the last few days. The company had seen these levels last before the epidemic.
The U.S. Center for Disease Control and Prevention (CDC) said last month that a COVID-19 test and quarantine are not required on local travel for vaccinated individuals. Delta Air shares, which have more than doubled in value in the past year, closed Friday at $ 49.27.
3. PepsiCo
Food and beverage giant PepsiCo (NASDAQ 🙂 will also publish its first quarter results before the market opening on Thursday. Analysts' average forecast is $ 1.12 in profit per share with $ 14.55 billion in sales revenue.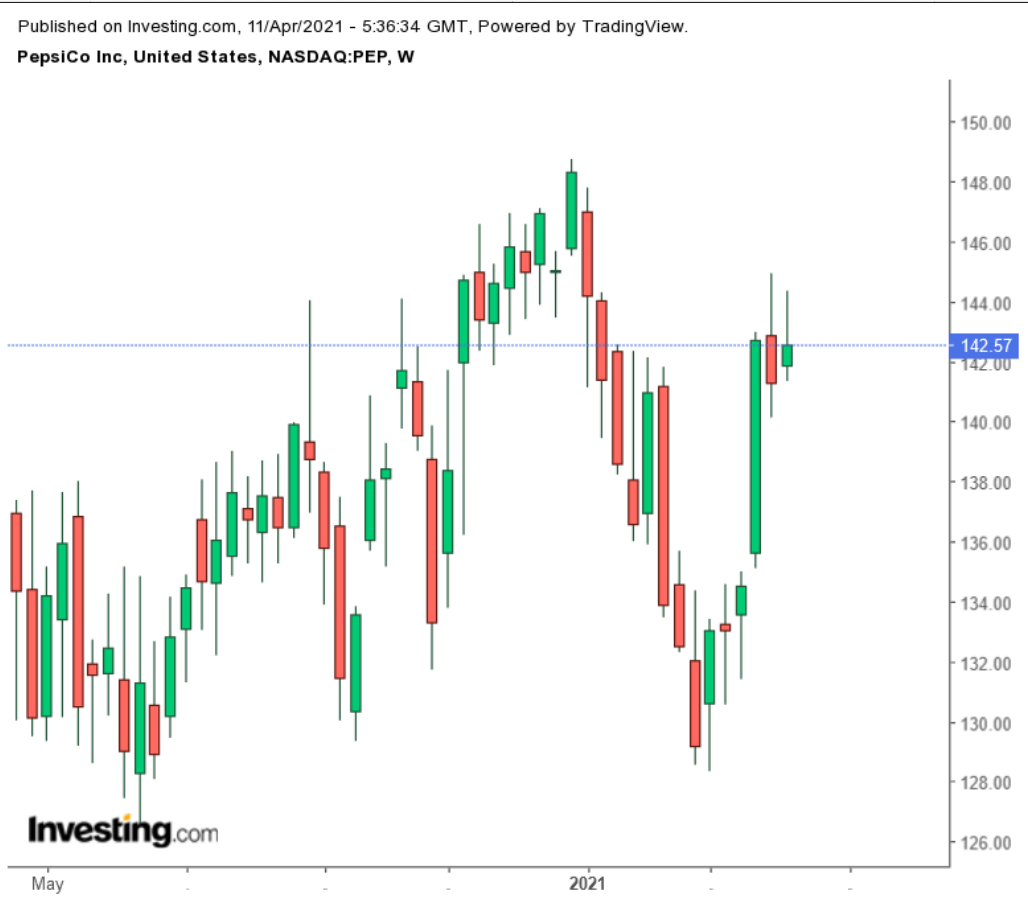 During the epidemic, Pepsi was able to stock up on snacks and beverages for consumers who couldn't leave their homes, with the help of a diverse portfolio of snacks such as Tostitos, Fritos, Ruffles and Cheetos.
In an interview with Bloomberg in February, CFO Hugh Johnston described the company's recent performance as one of the best in its history.
"People need to eat and drink, and we figured out how to get these products to them through the channels they want," Johnston said. Despite this impressive performance, PEP stock struggled a little this year and lost 4% of its value. The shares closed Friday at $ 142.57.