The recovery in the US economy has had a strong start to April thanks to President Joseph Biden's $ 2 trillion infrastructure plan and strength in technical charts, and may be heading towards a new high for 2021.
After a nearly 3% drop in March, copper futures traded in New York returned to rally mode, fully recovering from last month's losses. While there have been only four trading sessions so far in April, various data and developments undoubtedly support the metal.
The last support came from the USA, which Institute for Supply Management (ISM) published yesterday.
The index rose to 63.7, exceeding the economists' target of 59. The service sector thus recorded the best performance since 1997, demonstrating the strength of the recovery process of the US economy from the coronavirus epidemic.
Everything in Favor of Copper: Economy, Employment, Vaccines
Prior to ISM's data, the US released on Friday showed 916,000 new jobs created in March, compared to economists' expectations of 660,000.
Apart from that, President Biden hopes to pass his infrastructure spending plan ahead of the summer, laying the foundation for the creation of thousands of new jobs.
In addition to all this, the USA's vaccination program against COVID-19 is breaking records on record; 4 million doses of vaccine were administered on Thursday alone.
The stock market, on the other hand, reacted very strongly to these developments, reaching record highs of over 4,000 for the first time in its history last week, while the Index saw its highest levels in history.
According to Jeff Halley of OANDA's Asia-Pacific research division, these overlapping positive developments have created a mode of "US markets overnight" and "(almost) buy anything".
Copper, another highly sensitive commodity to the economy and stock markets, did not have a problem, while its prices fell due to concerns about a potential excess supply.
Copper futures traded on the New York COMEX rose as high as $ 4.16 per pound in April, approaching their peak near $ 4.38 in February, about 25 cents, or 6%.
COMEX copper rose 2.6% this month and made up for all the loss it suffered in March in just four trading days.
Graphics Also Support Copper
Apart from volatility, the charts point out that if copper can sustain its upward momentum without falling below the $ 4 support, it could reach its February peak.
According to technical expert Sunil Kumar Dixit from SK Dixit Charting, based in Kolkata, India:
"If the 50-day exponential moving average of $ 3.98 remains intact, the last revival in copper prices will continue."

"If additional support is provided with a one-day close above $ 4.15, the next target will be $ 4.37 and surpass the February high."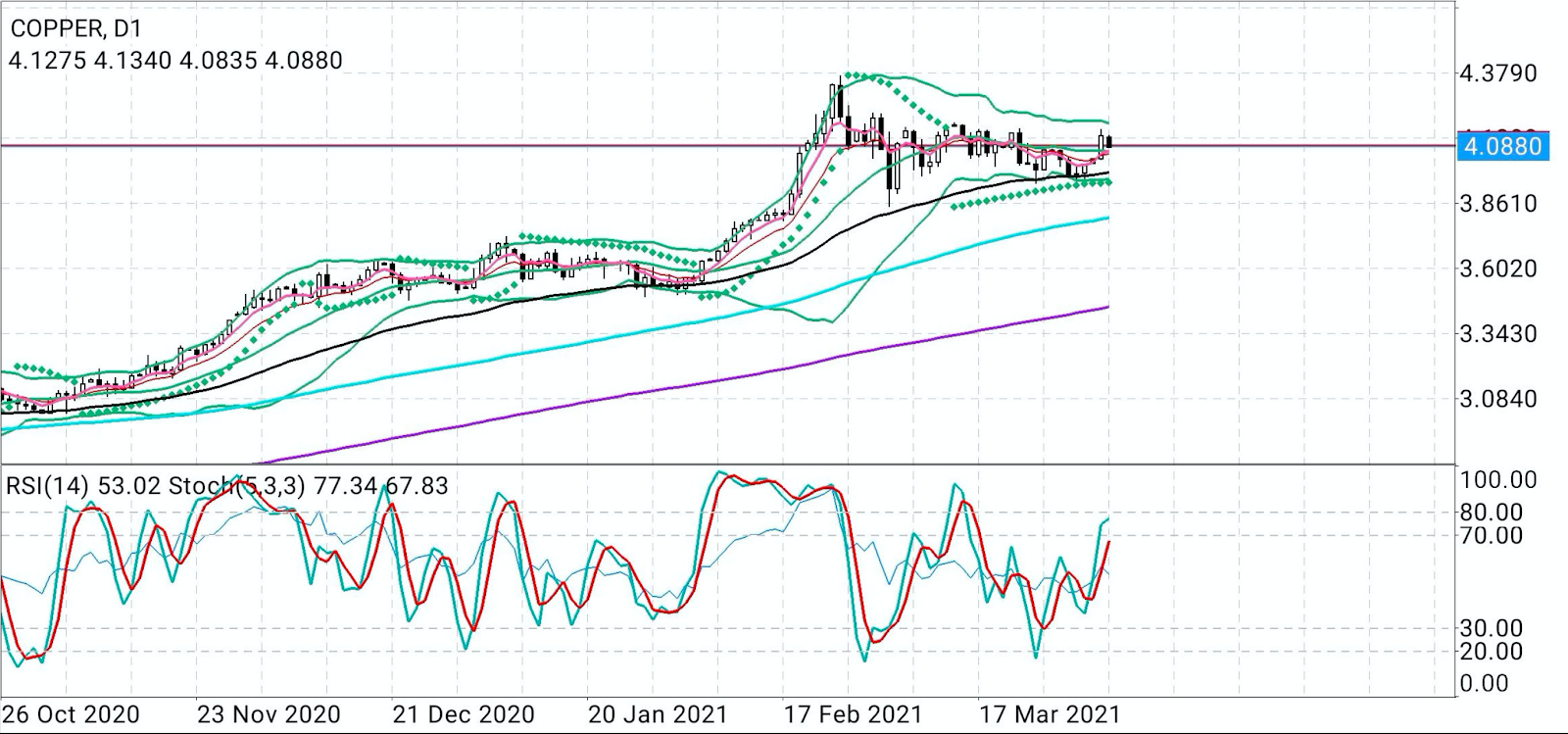 Grafik: SK said Charting
COMEX copper recorded its historic peak at $ 4.50 in August 2011. In March 2020, just before the peak of the COVID-19 outbreak, it was trading at $ 2.26. Metal is now 80% above these levels and has been one of the few commodities to win in one of the worst economic crises of the century.
Often seen as a reflection of the global economy, copper prices have rallied with rare pauses for nearly a year, with support from leading metal importer China, which ended COVID-19 restrictions long before the rest of the world.
But from the start of the new year, traders thought that the COVID-19 incentive money brought to the market by the US could trigger a "reflation" trade that could take copper to new heights.
Reflation; It is a fiscal or monetary policy applied to increase production, encourage spending and reduce the effects of deflation, which is usually seen after a period of economic uncertainty or a recession.
It is also used to describe the first phase of economic recovery after a period of recession. It generally weakens in such periods and increases commodity prices.
Apart from the outbreak benefits, Biden administration's infrastructure spending plan can also provide a base demand for copper. Under the new plan, it is expected that public buildings will be developed across the country and hundreds of thousands of tons of metal, including copper, will be used in this process.