With the explosion of online channels for shopping, entertainment and communication, almost all technology shares have made significant gains during the coronavirus outbreak. As developed economies prepare to reopen after a difficult year, one of the most challenging tasks for growth investors will be to find stocks that can sustain their gains in the post-epidemic world.
In this context, San Francisco-based Pinterest (NYSE 🙂 offers an attractive buying opportunity after the recent weakness.
Pinterest shares were trading about 20% below the record high in February on Wednesday. In this recent period of weakening, investors moved away from high-growth stocks due to concerns that they were getting too expensive and that growth rates would slow down with the reopening of the economy. Pinterest stock more than tripled its value in 2020.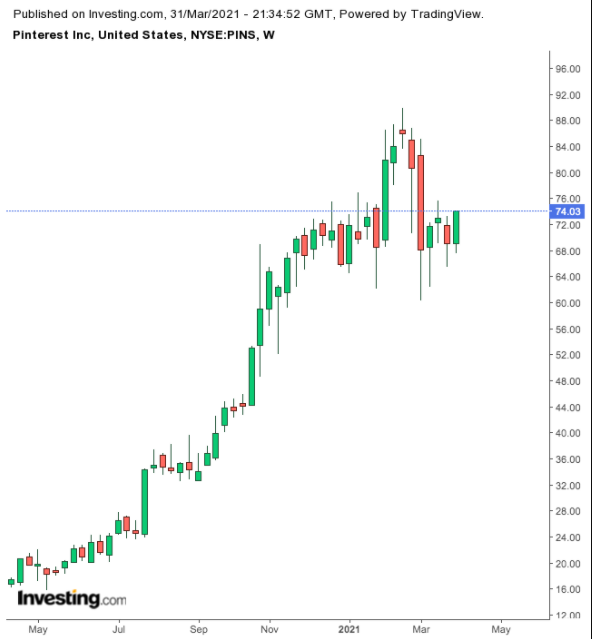 Pinterest Weekly Chart
Despite this environment of uncertainty regarding growth stocks, there are some strong reasons that have made Pinterest a special actor in the social media space. The platform functions as a digital board for pictures and ideas for segments such as fashion, weddings and recipes, allowing users to scroll through these "pinned" pictures and videos.
Users can save these content they like on their personal dashboards and bring together ideas on everything from vacation planning to recipes or holiday shopping lists. This structure puts Pinterest in a very different position than other social media companies, as users come to the page with the intention of making a purchase.
Expanding User Base
Pinterest has invested in making its platform more suitable for e-commerce in recent years. Pinned content on the site can now be purchased, meaning users can click on a product — or a similar recommendation — to buy the item from the brand's website.
Pinterest and Shopify (NYSE 🙂 created a new channel last May, as part of Pinterest's initiative to generate revenue from its large user base of small and medium businesses, allowing sellers to convert their products into "Product Pins".
Thanks to these initiatives, Pinterest's user traffic and interaction reached record heights during the epidemic period. Global monthly active users reached 459 million by the end of the fourth quarter, up 37% from the same period last year. Thanks to this increase in traffic, its revenues increased by 76% to $ 706 million. The company predicted that revenue will rise by over 70% in the quarter ending March.
In the upcoming periods, advertising companies may see permanent value on Pinterest due to the difference in their user base. For example, women make up more than 60% of the platform globally, which makes the platform very attractive for digital advertisers targeting women. The number of users under the age of 25 grew twice as fast as the number of users over the age of 25. This segment uses Pinterest for fashion and home decor ideas and working tips.
PINS's improved financial situation and user metrics undoubtedly played a major role in the stock's strong rally during the pandemic, but the regulatory threat faced by social media giants was also one of the key positive factors for smaller players like Pinterest.
An application that has low usage possibilities and clearly has a certain audience is in a position to be less affected by the regulation changes that can be made globally compared to social media companies such as Facebook (NASDAQ 🙂 and Google (NASDAQ :).
Most of the 31 Wall Street analysts who follow Pinterest are optimistic about the growth potential of the company, and 21 analysts provide buy advice for PINS shares. Analysts' average price target of $ 90.02 also indicates that PINS has an upward potential of around 22% for the next 12 months.
Result
Pinterest is at an early stage of growth and has a lot of room to increase average revenue per user thanks to its unique appeal and attractive user base for ad companies. This combination makes the stock a good long-term option for investors looking to take advantage of the current weakness.