This article was written in English on 30.03.2021, translated and published on this site.
High market value stocks often get much more on the agenda and attract a greater proportion of investors' capital. However, according to many financial planners and academic research, lower market value stocks are an effective tool for diversification.
According to recent research by Eric Sorensen and Sebastian Lancetti of Boston-based PanAgora Asset Management:
"The premium offered by low-market capitalization shares seems to have decreased over the past 20 years. However, this premium is still associated with economic cycles. [Geçmişte,] low market capitalization stocks (compared to the general market) yielded a higher return at a time when the economy was rising, long-term interest rates and market volatility declined. "
Bond yields have been on the rise in the past weeks. At the same time, large numbers of mega and large stocks began to lag behind. As a result, interest in small-scale stocks is now rising. We have previously reviewed some exchange traded funds (ETFs) focused on companies in this category. Today, we will introduce another fund that may be of interest to our readers.
The definition of low-market capitalization (small-scale) companies may differ between US brokerage houses and fund sponsors. However, the general definition is companies with a market value of between $ 150 million and $ 2 billion. Most ETFs in this area can also include mid-sized companies with values ​​ranging from $ 2 to $ 10 billion.
Fund managers often prefer small companies operating in accessible markets where industry dynamics provide backwinds. Investors who are considering investing in small-scale companies are aware that such companies can significantly increase their profits over time.
Pacer US Small Cap Cash Cows 100 ETF
Current Price: 40,06
52-Week Range: $ 15.53 – $ 43.02
Dividend Income: %0,64
Cost Rate: 0.59% per year
Pacer US Small Cap Cash Cows 100 ETF (NYSE 🙂 invests in the top 100 companies in its Index based on free cash flow returns. The fund started trading in June 2017 and manages a net asset of $ 219.5 million.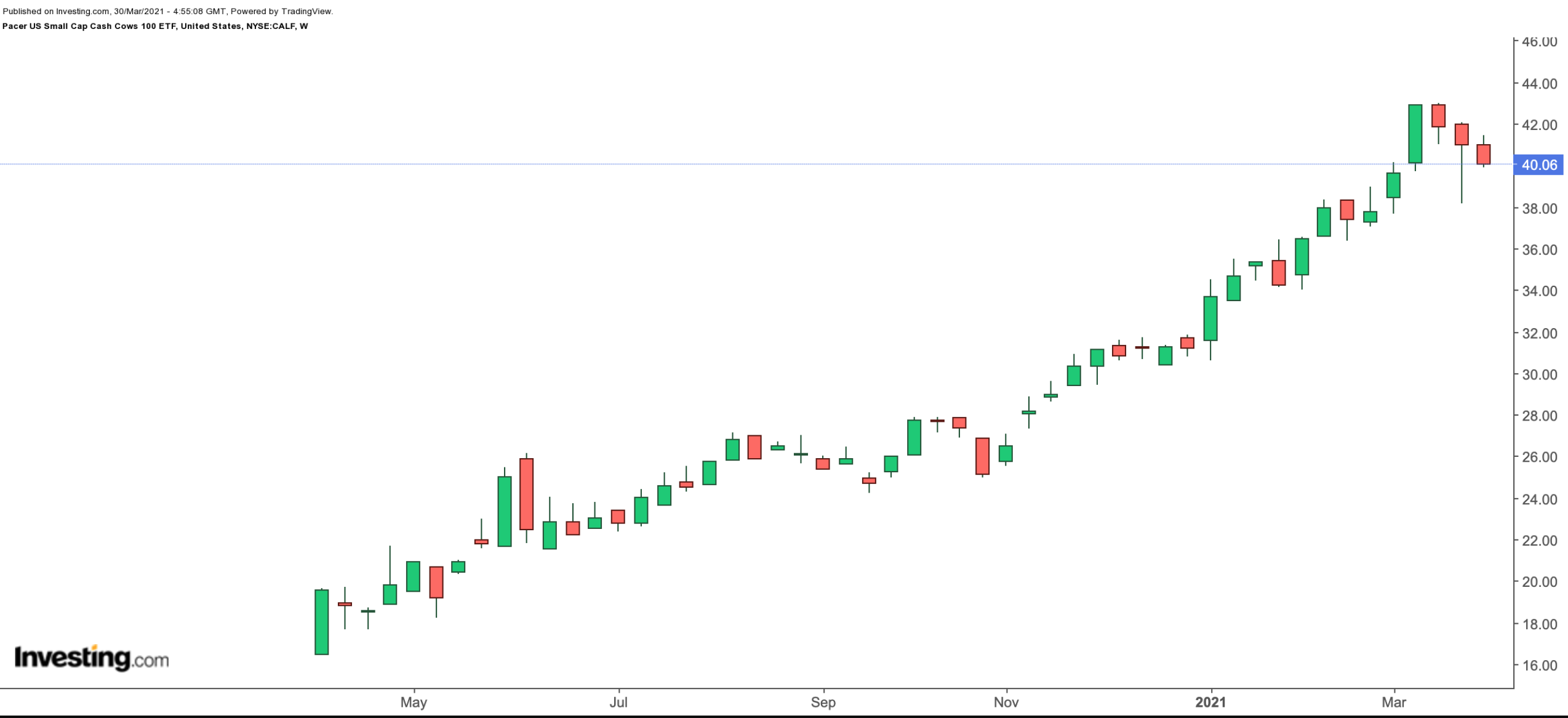 Many analysts consider free cash flow one of the most important metrics for a company's financial health and future success. This figure describes the remaining cash after the company makes all its payments and meets the requirements for operating and capital expenditures. Thus, management is in a 'free' position to spend this amount as it sees fit. Companies can choose to pay dividends, buy back their shares, seek growth opportunities, incorporate other companies, or keep cash on the sidelines for a period of time.
CALF invests in the 100 companies that are included in the S&P 600 Index and have the highest free cash flow in the last 12 months. The S&P 600 has risen 98% in the past 12 months and 18% since the beginning of the year. The index saw a record high on March 29.
The CALF has gained 122% in the past 12 months and has risen 31% since the beginning of the year. The fund reached a historic high of $ 43.02 on March 18.
The top 10 names in the fund make up close to 21% of the assets. None of the shares in the fund weigh more than 2.2% and therefore none of them alone can seriously affect the price of the fund. Some of the leading shares are:
Asbury Automotive Group (NYSE 🙂 – market value of $ 3.8 billion (runs car dealerships and maintenance services and sells automotive products);
Meritage Homes (NYSE 🙂 – market value $ 3.48 billion (a building firm that builds single-family homes);
Big Lots (NYSE 🙂 – market value of $ 2.59 billion (a retailer with close to 1,500 stores in the US. It sells items such as food, household goods, toys and electronics);
ABM Industries (NYSE 🙂 – market value of $ 3.52 billion (offering facility management services such as maintenance, parking, building and energy solutions);
Michaels Companies (NASDAQ 🙂 – market value of $ 3.11 billion (an arts and crafts focused retailer with stores in the US and Canada)
Signet Jewelers (NYSE 🙂 – market value of $ 3.08 billion (a company that operates jewelry stores in the US and UK); and
Select Medical (NYSE 🙂 – market value of $ 4.65 billion (a company that operates hospitals, rehabilitation clinics, and treatment centers for work-related illnesses and injuries).
On a sectoral basis, arbitrary consumer products have the largest weight with 44.9%, while industrial products and services (22.1%), health services (8.9%), information technology (7.6%), materials (%) 5,3) and other sectors are following.
The new revenue period may bring volatility and profit sales for many of the names that make up the CALF. A potential recession towards the $ 37.5 level would improve the safety margin for long-term investors. We appreciate the thematic nature and diversity of the fund.
Note: If you are interested in the aforementioned financial products but cannot find these products in your area, you may want to contact your brokerage firm or financial planner.
You can contact me for any questions or comments.
Editor's Note: Not all assets analyzed may not be available in all regional markets. Please contact an authorized brokerage firm or financial advisor to find similar financial instruments that may suit you. This content is for informational purposes only. Before making any investment decision, you should do your own detailed research.