Pat Gelsinger, the new CEO of Intel (NASDAQ :), has an ambitious plan to revive the growth of the world's largest chip maker. This strategy, which is a combination of in-house production and outsourcing, was created after years of weak performance that allowed competitors to gain market share.
While telling analysts about his plan this week, Gelsinger said Intel will use more external manufacturers to manufacture some of its most advanced processors by 2023. Gelsinger also announced that they will invest $ 20 billion by other companies to build two new manufacturing facilities under the name Intel Foundry Services (IFS) in Arizona to produce the chips of their designs.
With this move, Intel now aims to supply the world's largest cloud computing customers, such as Amazon (NASDAQ 🙂 and Microsoft (NASDAQ :), who largely design their own processors and need facilities to manufacture these chips. According to Gelsinger, who came to Intel just two months ago after his CEO role at VMware (NYSE :), this hybrid model is a successful combination.
"Intel is back. Old Intel is now New Intel," Gelsinger said in a presentation to analysts. "We will be the market leader and delight our new manufacturing customers because the world needs more semiconductors and we will fill this gap in a powerful and meaningful way."
The past two years have been a serious disappointment for Intel investors. While other semiconductor manufacturers have rallied thanks to an explosion of demand for new and fast chips, Intel was unable to launch their latest products on time due to problems in the manufacturing process.
Intel's competitors such as Advanced Micro Devices (NASDAQ 🙂 and NVIDIA (NASDAQ 🙂 have manufactured the chips they designed by other companies such as Taiwan Semiconductor Manufacturing (NYSE :), a company that Intel is trying to emulate with its new business plan.
Good and Bad Reactions
While Intel has risen only 16% in the past two years, the benchmark Index has more than doubled. Will the current plan be enough to make up for that gap, making Intel stock a good long-term investment option? Analysts differed due to Intel's previous mistakes and tough competition in the industry.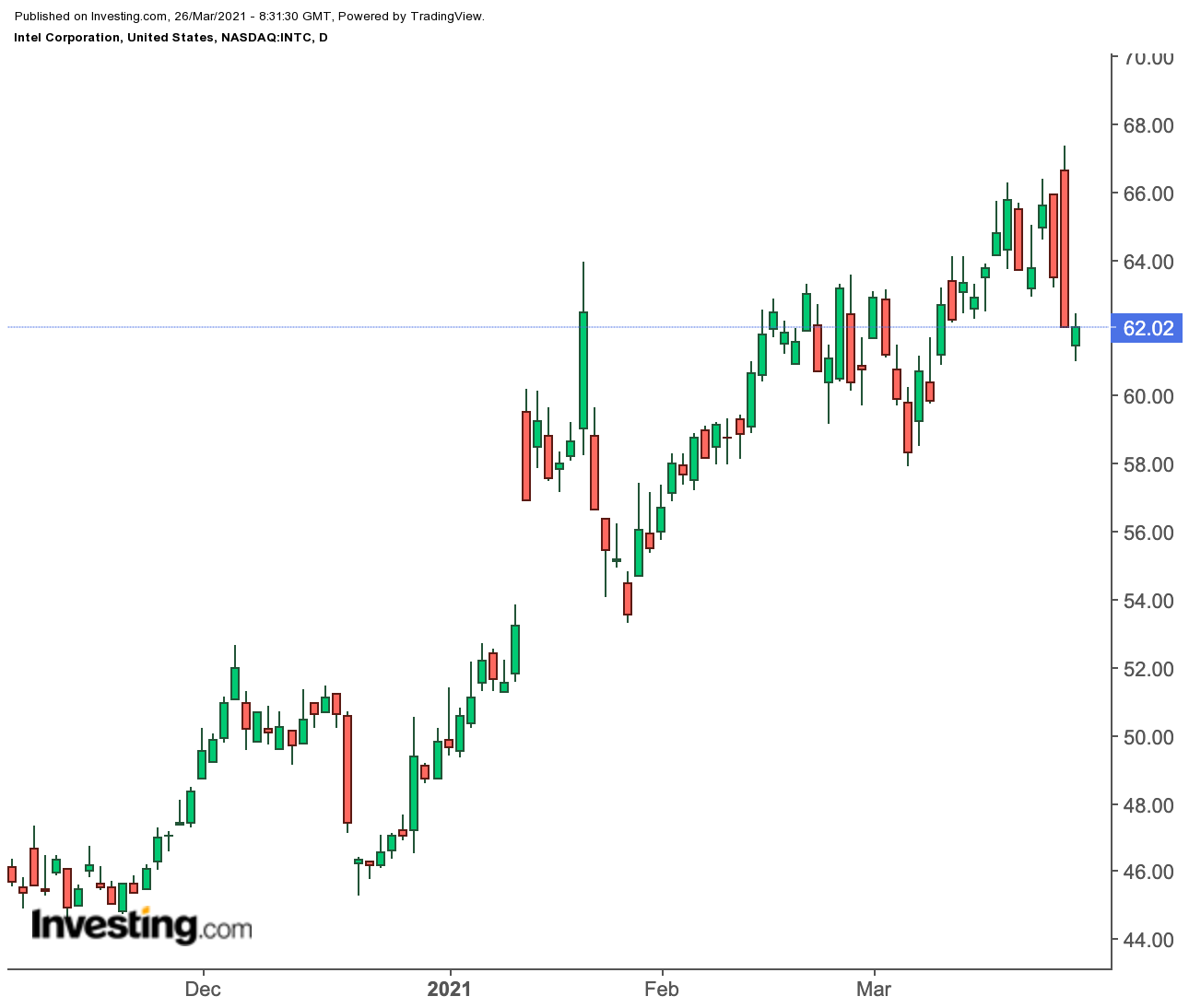 Goldman Sachs stated that the $ 20 billion allocated for the production of the new factory could create a conflict of interest with competitors by damaging free cash flow, and maintained the "Sell" rating for the stock. According to CNBC.com, Goldman used the following statements:
"We believe that even if IFS is set up as a stand-alone business, apart from Intel's core business, large customers who are Intel's core business competitors will shy away from working with IFS."
But conditions for Intel look fine if it successfully executes its plans.
The global chip shortage and the massive investments China has made to become a leader in chip manufacturing has made the industry part of a geopolitical struggle. US President Joseph Biden signed a decree last month requiring a 100-day review of key supply chains, including semiconductors. Biden also said it will seek $ 37 billion to help increase the capacity of the local chip industry.
With political and financial support, demand for chips is expected to remain strong after the epidemic, as people increase their spending on smartphones, games and every other electronic device that needs chips. According to investment firm Baird, which reiterated its "high performance" rating for Intel stock and set a price target of $ 85 for the share:
"We are now witnessing probably the worst capacity constraints since the late '90s, and the geopolitical environment is making it an increasingly risky bet to only bet on TSM. Intel only takes advantage of the most helpful conditions of recent decades for US-based semiconductor manufacturers. required. "
Result
Intel's new turnaround plan is impressive and offers strong reasons to be optimistic about the company's future. However, with the "wait and see" approach of the investors, the current level of the stock does not offer much upward potential in the short term at the moment. For long-term investors, a better option is to stay on the sidelines and wait for a better entry point.