Copying the success of Tesla (NASDAQ 🙂 is not an easy task. After achieving high production volumes and cash generation, the California-based electric vehicle manufacturer now has a market value of $ 633 billion, greater than the combined market value of the three largest automakers in the US.
Aware of Tesla's success — and its share price — investors began buying shares from smaller electric car manufacturers in hopes of achieving similar returns as the global electric car market grows. One of these shares, which also received high support from Wall Street analysts, is Chinese electric SUV manufacturer Nio (NYSE :).
Nio's New York-listed shares rose more than 1,400% over the past year, bringing the company a market capitalization of over $ 60 billion. This figure is also above the market value of General Motors (NYSE 🙂 this year. But after seeing a record high of $ 66.99 on January 11, NIO shares lost more than 40%, triggering a debate about whether it is the right time to buy the stock right now.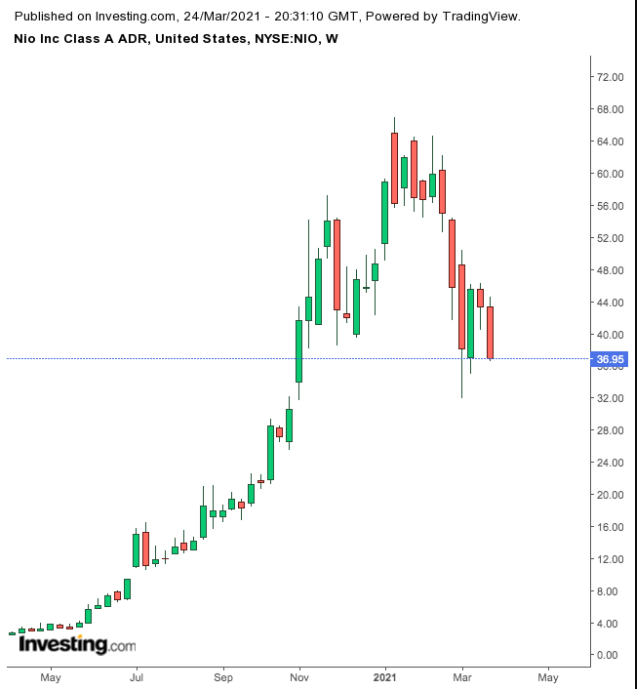 NIO Weekly Chart
The explosive rise in NIO shares over the past year reflected investor optimism that the Shanghai-based company is in the best position to compete with Tesla in China, the world's largest electric vehicle market.
The company's latest release this month shows that the company is now on the line of selling more vehicles, after returning from the brink of collapse in 2019, when the company was in a serious cash shortage.
New Delivery Record
Vehicle sales in China are on the rise, even though the manufacturer is still not fully profitable and the net loss in the fourth quarter is below analyst's expectations. Nio delivered 17,353 vehicles in China in the fourth quarter, setting a new quarterly delivery record.
According to Bloomberg, demand for electric cars in the world's largest car market will continue to increase in the coming years, with consumers adopting cleaner cars and falling prices for electric cars.
Electric car sales could grow by over 50% in 2021, with a standardized network of public electric car charging units in China, a high rate of government support and a return of strong consumer demand, according to a report by research firm Canalys.
Japan-based Mizuho Financial Group launched its review for Nio with a "buy" rating in a study published this month and said they saw "serious upward potential" in the company's stock:
"NIO is a leader and innovator in the elite electric car segment, and is headquartered in China, the world's largest and fastest-expanding electric car market. NIO has one important difference from its counterparts: through its distinctive 'Battery as a Service' battery swapping module. It offers an elite electric car for a low price. "
Despite analysts' positive ratings for the stock, the NIO has been under dire selling pressure since the company warned that production could remain limited in the first quarter due to a global chip shortage this month.
According to NIO CEO William Li, while the monthly capacity has increased to 10,000 units, production will remain at 7,500 units "due to supply chain constraints, including the lack of chips", according to NIO CEO William Li. "While we believe we can manage to meet demand for the second quarter, there is a really high risk."
Result
The NIO stock looks tempting, following the recent weakness that took up the bulk of the foam created by the unique rally that took place over the past year. The company had a strong start in China and is well positioned to compete with Tesla and other players in this market. For investors looking to enter the electric car market in China, Nio offers a good entry point.