This article was written in English on 22.03.2021, translated and published on this site.
Its index has risen over 4% since the beginning of the year and reached a record high on March 17th.
Additionally, the index has generated a return of about 62% in the past 12 months. With the general markets rising, many investors are wondering about the possibility of a correction in the coming weeks.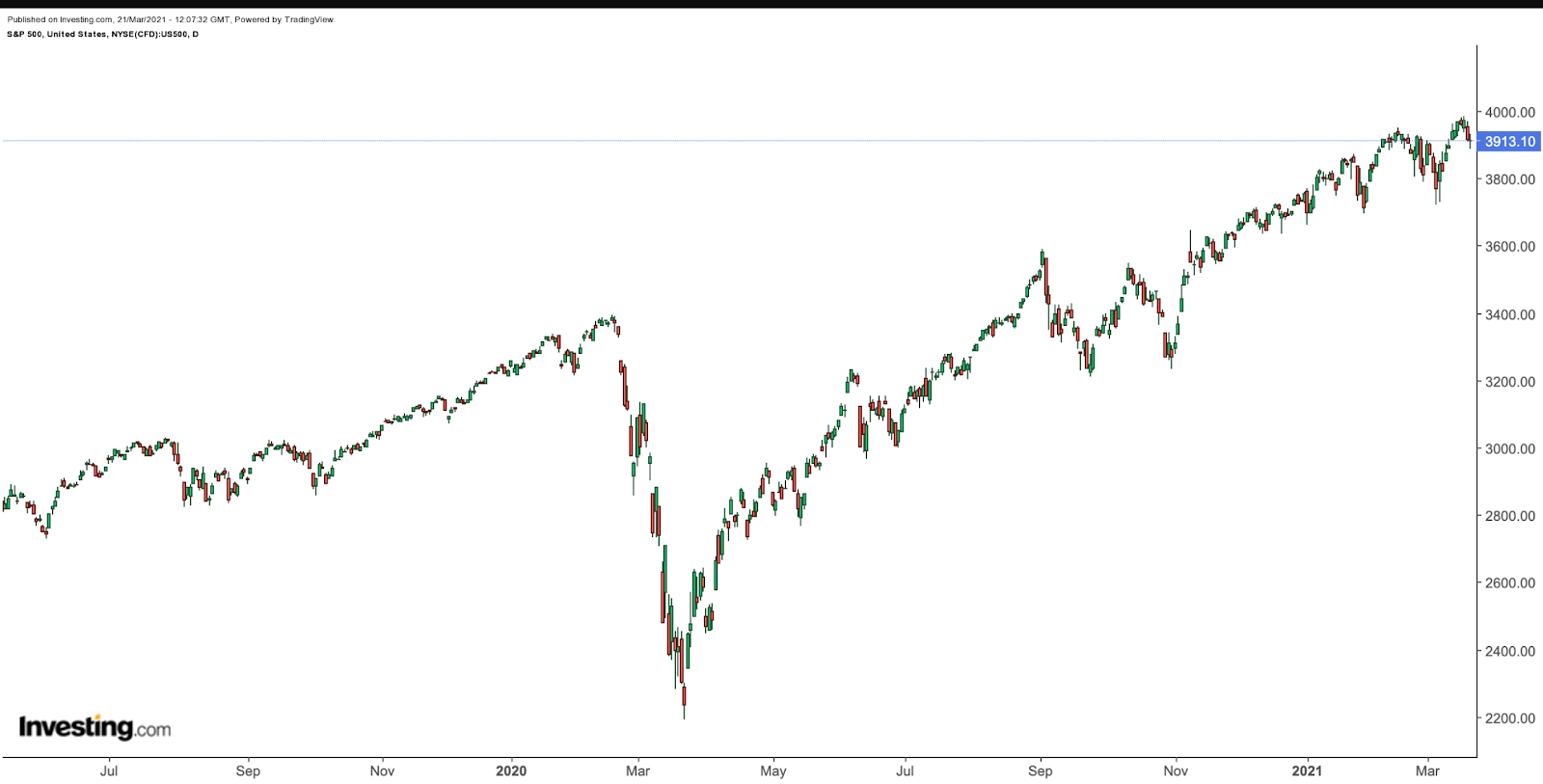 April means the new quarterly reporting period and with it an increase in fluctuations, especially in popular stocks, which are constantly on the agenda. However, it should be borne in mind that market declines are part of the cycle.
Volatility in the markets does not mean that investors should be constantly afraid or sell in panic. Instead, it can be seen as an appropriate time to take a step back and reassess the portfolio.
Depending on their risk / benefit profile, investors can slightly reduce their positions on overvalued names with some profit selling.
Diversifying assets is also of great importance. Therefore, in today's article, we will introduce two exchange traded funds (ETFs) that are suitable for investors who believe that the markets will remain fluid and want to increase their positions in the defensive names in their portfolios.
1. Invesco DB US Dollar Index Bullish Fund
Current Price: $ 24.78
52-Week Range: $ 24.09 – $ 28.90
Cost Rate: %0,75
Our first fund today is a currency exchange traded fund (Currency ETF) that offers access to the foreign exchange (forex) markets. In our previous articles, Invesco DB US Dollar Index Bullish Fund We have reviewed various currency ETFs, including (NYSE :). We believe it's time to take a look at this ETF again.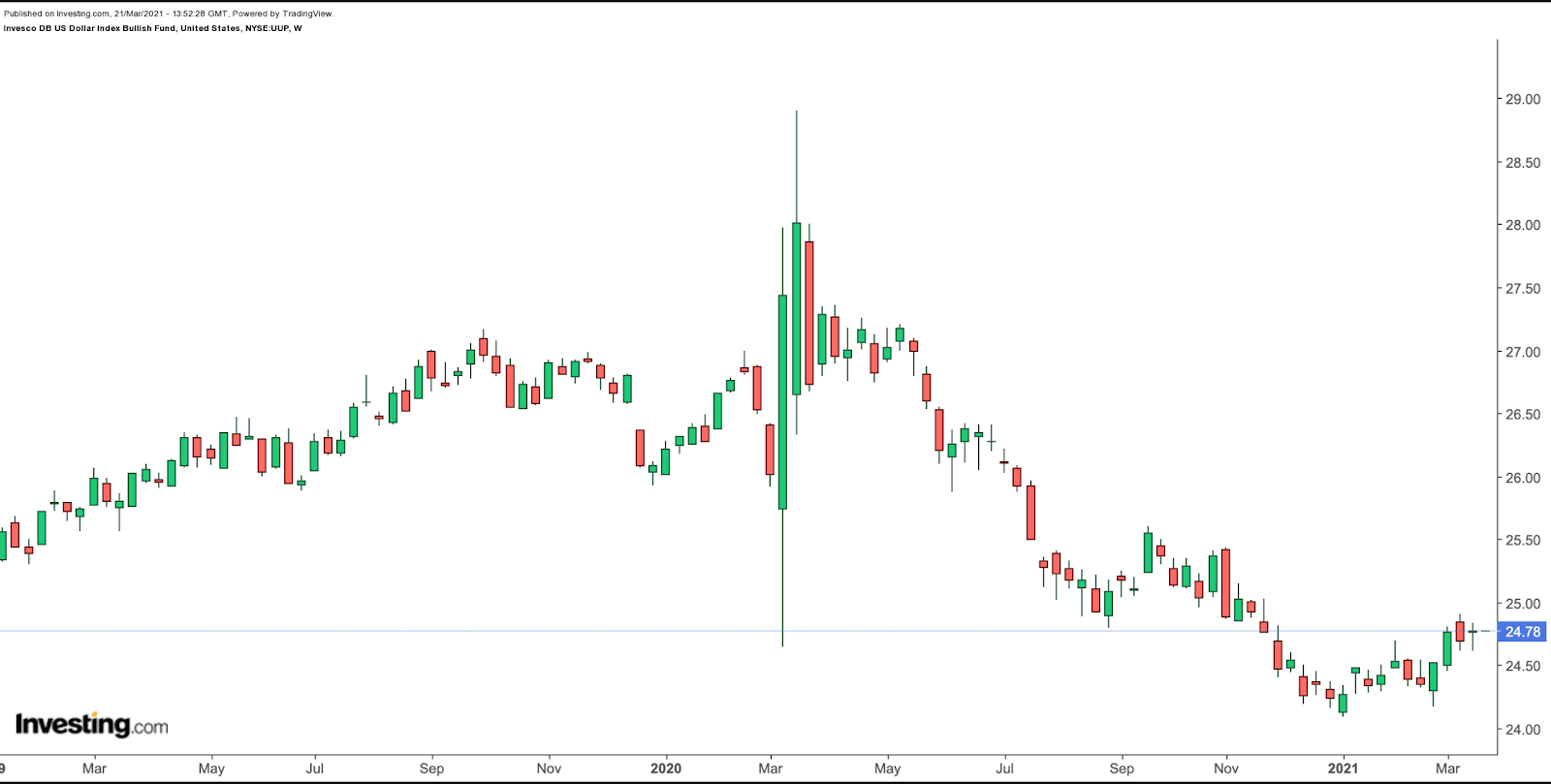 The fund offers access to US futures. The index fell steadily between March 2020 and January 2021.
It should be noted that it is extremely sensitive to USDX and other currencies in Europe. However, the index has found support around the 90 level in recent weeks and is now approaching the 92 level.
The strength (or weakness) of a currency is simply a concept relative to the weakness (or strength) of other currencies. UUP can also decline when currencies in the index get stronger. So, the UUP fell between March 2020 and January 2021 and then found support around $ 24. The bulls believe the fund may soon reach over $ 25 as the dollar gains value.
We believe that a consolidation period in 2021 will be followed by an upward movement in the US dollar. Interest rates, economic developments, national and global politics can affect the value of a currency.
In the coming months, we expect the US economy to recover faster than those in the European Union and many other countries. Vaccination efforts have been very slow in many EU countries, and the continent is talking about the third wave of COVID-19. Therefore, we are cautiously looking forward to the UUP going up, and holding a long position for the US dollar through funding is a viable option for us. We also believe that such a long position can protect against a fall in the general stock markets.
Finally, some of the other currency ETFs we've reviewed earlier:
Invesco CurrencyShares® British Pound Sterling (NYSE:)
Invesco CurrencyShares® Japanese Yen (NYSE:)
Invesco DB US Dollar Index Bearish Fund (NYSE:)
We also mentioned that the Emerging Market bulls are generally happy with a weakening in the US dollar and vice versa.
2. Cambria Tail Risk ETF
Current Price: $ 18.97
52-Week Range: $ 18.88 – $ 25.68
Dividend Income: %1,25
Cost Rate: %0,59
In recent weeks, we have reviewed various ETFs that implement hedging strategies through hedged call options, including LEAP options, and put options that give the option holder the right to sell the shares at a specified price on or before the deadline. We also looked at hedged call options and diagonal buy spreads with LEAPS for individual stocks.
Such strategies can be used for both protective and speculative purposes.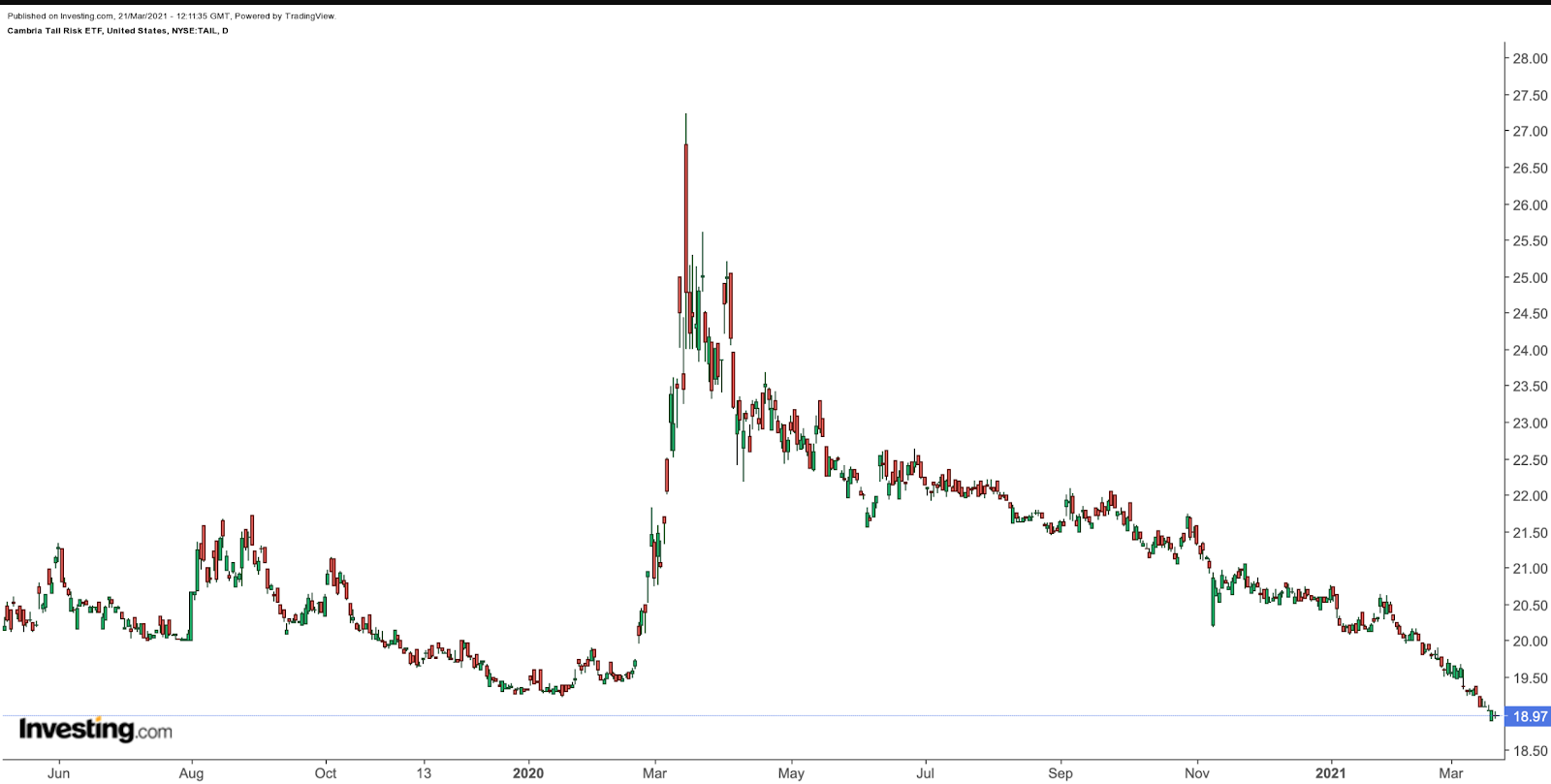 Still, most market participants may not feel very comfortable applying these more advanced approaches. That's why fund sponsors are launching actively managed ETFs that include a variety of derivative products that can help protect portfolios.
Our second fund today is one of those special ETFs. Cambria Tail Risk ETF (NYSE 🙂 includes put options on the US stock market in its portfolio. The fund began trading in April 2007 and manages an asset of $ 312 million.
TAIL is a defensive tool in nature, as it aims to reduce serious downside market risk. A low portion of funding sources (currently around 5%) S&P 500in a basket of essential worthless (OTM) put options. The rest of the assets (about 95%) are in mid-term US Treasury bonds.
TAIL has lost about 7% since the beginning of the year and fell 23.5% last year. However, the fund reached a historic high in mid-March 2020. Compared to the chart for the S&P 500 Index, these reverse movements are evident. A year ago, as the general markets fell, the value of the put options in the fund's hands rose and provided profitability. Treasury bonds can also be an effective protection against market declines in times of falling share prices.
However, since the spring of 2020, the S&P 500 has been on the rise and down. As a result, TAIL's performance also declined.
An ETF like TAIL could be a viable option for investors hoping for a decline as a hedge against market setbacks and rising volatility.
However, for the fund to generate significant returns, the decline must also be very high. Market participants should note that the fund will not provide positive returns in periods such as the past 12 months when markets have risen and volatility has declined.
Note: If you are interested in the financial products mentioned above but cannot find these products in your area, you may want to contact your brokerage firm or financial planner.
You can contact me for any questions or comments.
Editor's Note: Not all assets analyzed may not be available in all regional markets. Please contact an authorized brokerage firm or financial advisor to find similar financial instruments that may suit you. This content is for informational purposes only. Before making any investment decision, you should do your own detailed research.