This article was written in English on 17.03.2021, translated and published on this site.
The Biden administration's US $ 1.9 trillion Rescue Plan was enacted. Now, green energy-driven infrastructure developments are likely to form a substantial part of President Joseph Biden's next steps in 2021.
The costs of proposals to be brought by the administration will likely be at least $ 2 trillion. This program, driven by the budget deficit, is expected to help revive the US economy.
According to consulting firm McKinsey:
"The Neutral Congressional Budget Office revealed in 2015 that every dollar spent on infrastructure benefits the economy up to $ 2.20. The US Economic Advisors Council calculated that a $ 1 billion investment in transport infrastructure supports 13,000 jobs a year."
In other words, infrastructure spending is critical to sustainable growth in the economy. We have previously examined exchange traded funds (ETFs) that may be suitable for investors looking to enter companies that can benefit from planned public spending. Today, we continue this review.
1. iShares Global Clean Energy ETF
Current Price: $ 24.73
52-Week Range: $ 8.08 – $ 34.25
Dividend Income: %0,33
Cost Rate: 0.46% per annum
iShares Global Clean Energy ETF (NASDAQ 🙂 offers access to global companies that generate energy from wind, solar and other alternative energy sources. The fund started trading in June 2008 and has a net worth of close to $ 5.8 billion.
"Renewable energy is the fastest growing energy source in the US … Renewable energy accounted for 26.2% of global electricity production in 2018. This is expected to rise to 45% by 2040. Most of the increase is likely solar, It will be experienced in wind and water resources. "
ICLN, which tracks its index, currently has 30 assets. In terms of geographic distribution, more than 35% of the fund is composed of US-based companies, followed by China (11.36%), New Zealand (8.17%) and Denmark (7.76%). The top three sectors in the fund are Renewable Electricity (36.86%), Semiconductor Equipment (16.81%) and Electricity Companies (15.03%).
The top 10 companies make up about 50% of the fund. Hydrogen fuel cell systems developers Plug Power (NASDAQ :); developing microinverter systems for solar cell manufacturers Enphase Energy (NASDAQ :); Austria-based electricity generating through hydropower Composite (OTC :); Chinese polysilicon manufacturer Daqo New Energy (NYSE 🙂 and Spanish renewable energy equipment manufacturer Siemens Gamesa Renewable Energy (OTC 🙂 is one of the leading names of the fund.
ICLN has generated nearly 155% returns over the past year and reached a historic high in early January. However, profit sales started from this date and the fund has declined by more than 10% in 2021. Due to the increase in volatility in the general markets, the shares of the companies that make up the fund are likely to see fluctuations in the coming weeks. However, long-term investors can find value at these levels.
2.Global X U.S. Infrastructure Development ETF
Current Price: $ 24.41
52-Week Range: $ 19.77 – $ 24.94
Dividend Income: %1,96
Cost Rate: 0.40% per annum
Global X U.S. Infrastructure Development ETF (NYSE 🙂 invests in companies that can benefit from the increase in infrastructure activity in the USA. These companies include raw material manufacturers, engineering, construction and heavy equipment companies. The fund started trading in March 2017 and has a net worth of $ 1.9 billion.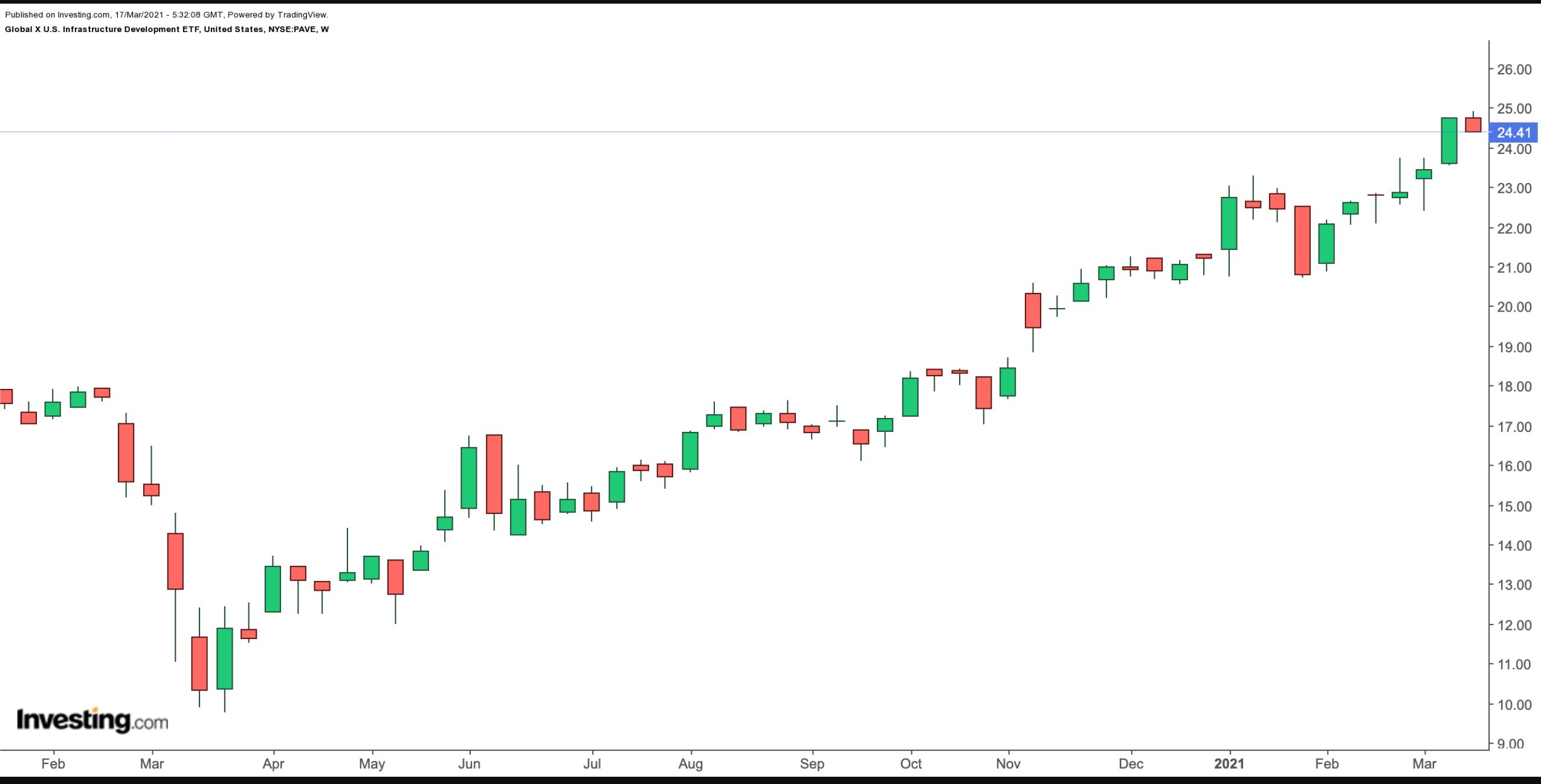 With 101 assets, PAVE tracks the Indxx US Infrastructure Development Index. The top 10 companies make up about 30% of the fund. Therefore, the movement experienced in a single share does not significantly affect the price of the fund.
Some of the biggest names in the fund: Agricultural and construction machinery and heavy equipment manufacturer Deere (NYSE :); motion technology manufacturer Parker-Hannifin (NYSE :); power management group Eaton (NYSE :); providing software and engineering solutions such as automation and climate technologies Emerson Electric (NYSE 🙂 and building materials supplier such as sand, gravel and asphalt mix manufacturer Vulcan Materials (NYSE:).
PAVE has gained about 92% in the past 12 months. The fund reached a record high in March and continues to be traded in this region. Due to the serious increase in stocks, short-term profit sales may be experienced in the coming weeks. Investors who believe that infrastructure companies will benefit from new public spending in the US may find a better value around $ 22.5 and want to follow PAVE.
Note: If you are interested in the financial products mentioned above but cannot find these products in your area, you may want to contact your brokerage firm or financial planner.
You can contact me for any questions or comments.
Editor's Note: Not all assets analyzed may not be available in all regional markets. Please contact an authorized brokerage firm or financial advisor to find similar financial instruments that may suit you. This content is for informational purposes only. Before making any investment decision, you should do your own detailed research.