Another week awaits us when it will be difficult for investors to predict which direction the markets will take. Investors have focused on the bond market, where interest rates have climbed with the expectation of a rise in inflation, and this climb has led investors to switch from fast-growing stocks to cyclical and value names.
This shift hit growth investors a big blow, as the Index closed the last three weeks with a decline and the loss of $ 1.6 trillion in market value during this period. Concerns about rising interest rates and the impact of rates on share valuations will not disappear soon, especially as Americans will receive new incentives, especially after the US Senate passed a $ 1.9 trillion coronavirus recovery package on Saturday.
The package was passed along with overcoming an important deadlock in the implementation part. The Democrats-dominated House of Representatives aims to pass the law Tuesday, sending it to President Joseph Biden to sign it before March 14, the deadline for renewal of unemployment benefit programs.
Let's look at three stocks that we believe are worth watching over the next week in these uncertain market conditions:
1. Tesla
After the 30% depreciation since the January summit, investors will closely follow the movements in Tesla (NASDAQ 🙂 stocks.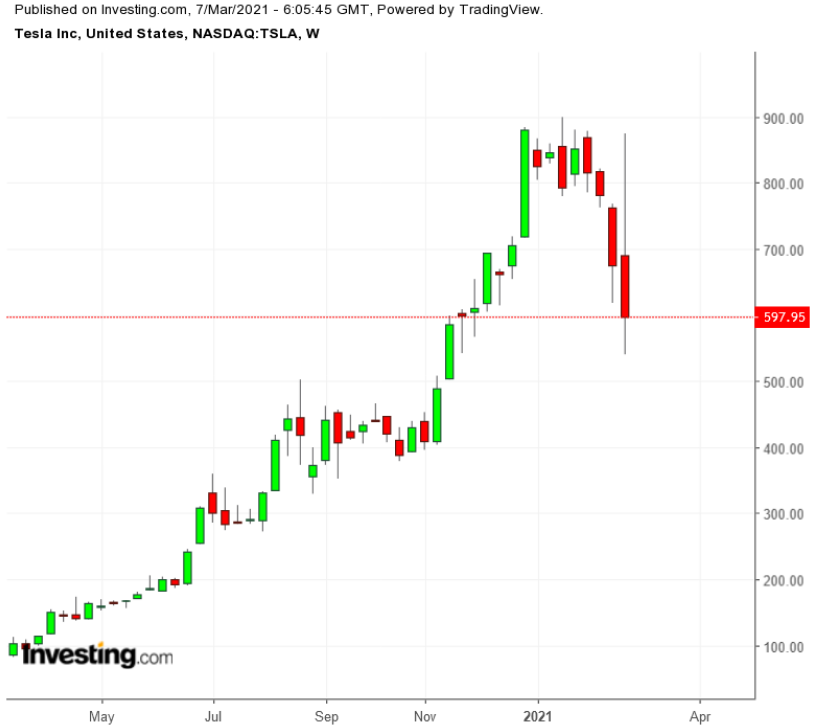 Tesla shares closed nearly 4% at $ 597.95 on Friday, when growth stocks lost.
Prior to this weakness, the electric car manufacturer's share had seen an explosive rise, gaining more than 700% value in 2020. A jump in US Treasury bond yields and expectations for a rise in inflation suppressed the stock market, triggering a divestiture in high-flying growth stocks.
Tesla's recent weakness has shown that it is more susceptible to changes in market sentiment than other tech giants due to its high speculative attraction.
With the increasingly accelerated divestiture of technology stocks, investors are also worried that competition in the electric vehicle market is tougher and the company may find it difficult to increase sales volume as the company cuts prices on some of its models.
2. Oracle
Oracle (NYSE :)) will publish fiscal 2021 third quarter results after market close on Wednesday, March 10. Analysts expect $ 10.05 billion in revenue and $ 1.11 in profit per share.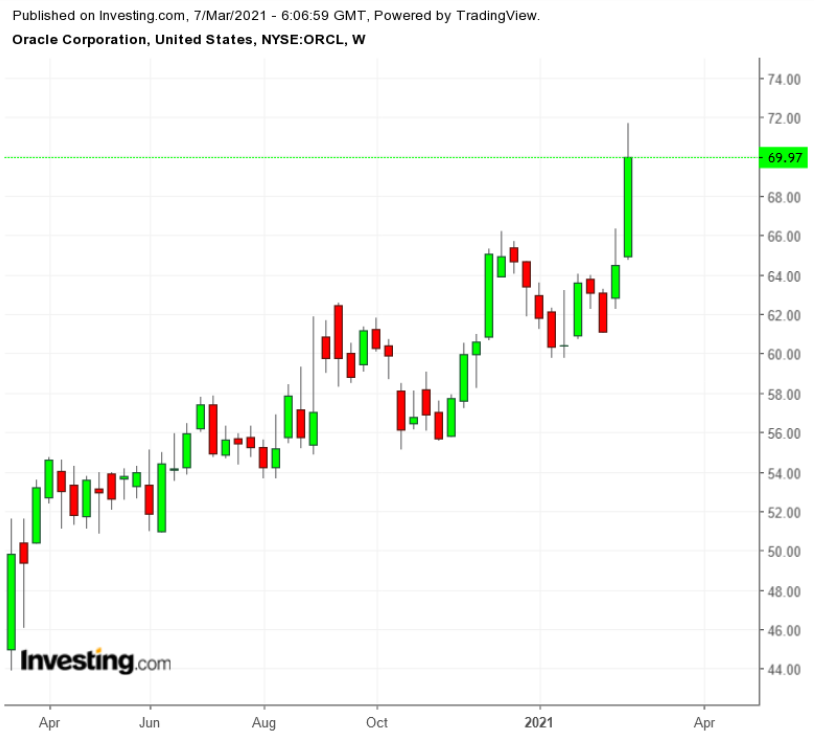 At the end of December, the company exceeded expectations for quarterly revenue, a sign of improved demand for cloud computing services after years of weak sales.
Revenue likely rose 2-4% in the period concluded in February, allowing the company to record for the third consecutive quarter after two fiscal year revenue declines.
The world's second-largest software maker focuses on cloud computing services as part of its effort to increase revenue growth, improving the company's growth outlook. Customer interest in the company's web-based applications has finally managed to outstrip the dwindling demand for its traditional tools.
Oracle stocks, which closed Friday at $ 69.97, gained nearly 7% on the last trading day of last week, with the expectation that the results will come above expectations. The stock rose 26% in the past six months.
3. JD.COM
Chinese e-commerce giant JD.Com (NASDAQ 🙂 will publish its fourth quarter results ahead of the market opening on Thursday, March 11. Analysts expect $ 0.19 in profit per share with $ 33.9 billion in sales revenue.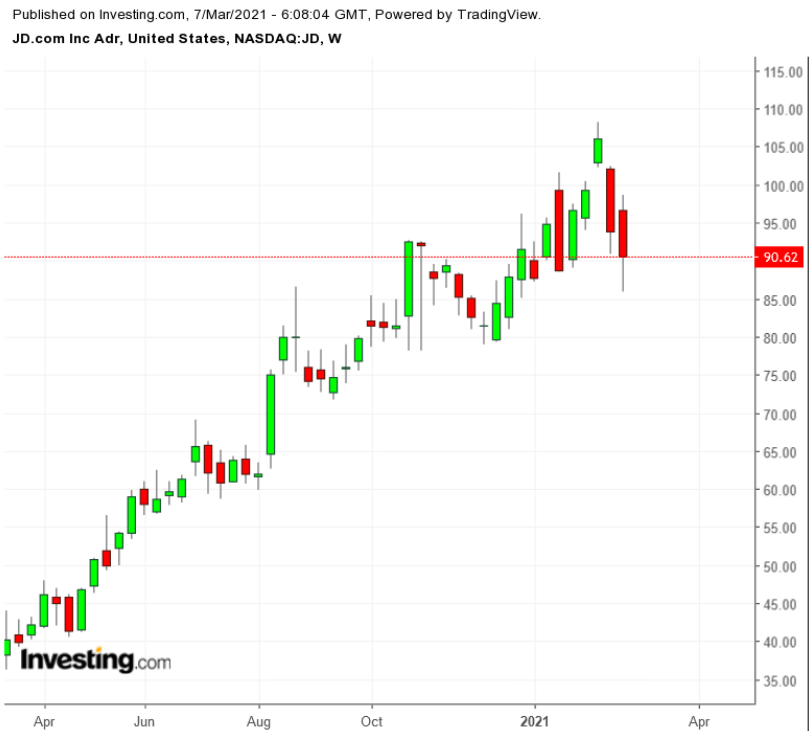 According to the report published by Bloomberg last month, the company plans to raise billions of dollars by opening its shipping company JD Logistics to the public in Hong Kong in order to take advantage of the post-COVID e-commerce boom in China.
According to the report, the initial public offering will provide a resource of about $ 5 billion and will give the unit a value of close to $ 40 billion. JD's shares listed on the NASDAQ have fallen over 16% since their peak in February and closed Friday at $ 90.62.