Twitter founder Jack Dorsey launched the first tweet in Twitter's history. The tweet was first seen by many people, especially Tron CEO Justin Sun.
Twitter CEO Jack Dorsey auctioned the platform's first message as a non-fungible token (NFT) on the Valuables platform. As of this morning, many offers have been offered for sale. One of these offers was the $ 1 million offer made by Tron CEO Justin Sun. But Sun has a rival. A Valuables user named Estavi made a $ 1.5 million bid for the first tweet.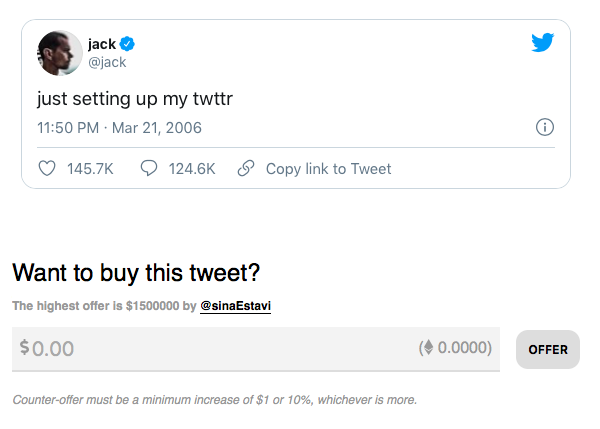 Valuables is an Ethereum-based platform created by the social network Cent and allows Twitter users to verify their tweets for sale to others (think of them as digitally signed copies).
This is the tweet that Dorsey put up for sale:
just setting up my twttr

– jack (@jack) March 21, 2006
The auction is very contentious right now. Let's see who will be Dorsey's tweet.