This article was written in English on 16.02.2021, translated and published on this site.
President Joseph Biden has made it clear that infrastructure work, especially for a sustainable economy, is high on his administration's agenda. Biden's policies are likely to encourage infrastructure development and clean energy technologies.
That is why today we will be introducing two exchange traded funds (ETFs), one of which is focused on "green", that will be of interest to our readers who are interested in companies that can benefit from developments in infrastructure projects.
Companies operating in the field of transport, communications networks and utilities, and construction, such as railways, are part of the infrastructure shares segment. According to Michigan Economic Development Corporation:
"Investing in the country's infrastructure can create an immediate boost to the economy, creating new employment areas, but its greatest value is in supporting economic competitiveness in the long run."
According to Global Infrastructure Index 2020, a study published recently by the Global Infrastructure Investor Association (GIIA):
"[Katılımcıların] 79% agree that investments in infrastructure will create new jobs and strengthen the economy. "
Many global organizations and think tanks are calling on governments around the world to implement green incentive and recovery packages after the outbreak ends. According to PWC:
"Approximately 70% of greenhouse gas emissions come from infrastructure … To build a better tomorrow, every infrastructure-related incentive must be focused on clean energy — decarbonisation power, heat and transport — and business and government agencies must work together to achieve these goals. should work. "
With that said, let's take a closer look at our two exchange traded funds today:
1. iShares US Infrastructure ETF
Current Price: $ 31.82
52-Week Range: $ 16.69 – $ 32.18
Dividend Income: %1,96
Cost Rate: %0,40
iShares US Infrastructure ETF (NYSE 🙂 offers access to US-based companies that can benefit from the increase in infrastructure work. Since it started trading in April 2018, the assets managed by the fund have approached $ 212 million.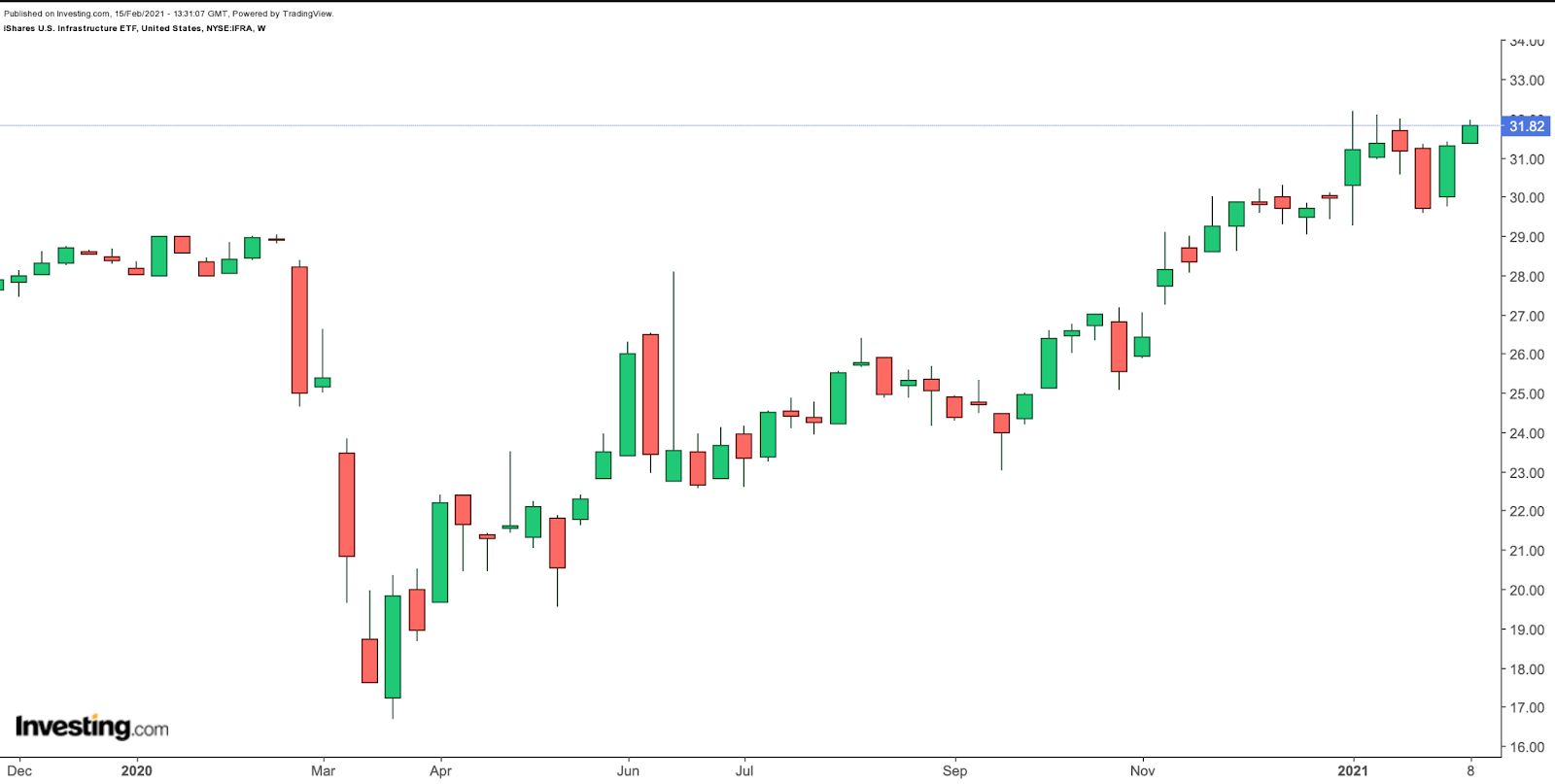 NYSE FactSet US Infrastructure Following its index, IFRA has 133 assets. The top ten names make up about 10% of the fund. Thus, the movements of a single share do not have a serious impact on the price of the ETF.
Building materials suppliers Builders FirstSource (NASDAQ:) ve Gibraltar Industries (NASDAQ :), manufacturer of timber alternative products Trex (NYSE :), infrastructure construction group MasTec (NYSE:) ve Great Lakes Dredge & Dock (NASDAQ 🙂 is one of the leading names in the fund.
IFRA has gained about 10% in the past 12 months. More than 6% of these gains were achieved in 2021. Offering a dividend income of 1.97%, the fund's price-earnings and price-book value ratios for the last 12 months are 21.08 and 2.17, respectively. Investors who believe that infrastructure companies will benefit from new public spending in the US could find a better value around $ 29.
2. First Trust NASDAQ Clean Edge Smart (IS:) Grid Infrastructure Index Fund
Current Price: $ 87.24
52-Week Range: $ 35.96 – $ 87.96
Dividend Income: %0,63
Cost Rate: %0,70
First Trust NASDAQ® Clean Edge® Smart Grid Infrastructure Index Fund (NASDAQ 🙂 invests in companies in the grid and electrical power infrastructure industry. These companies usually operate in the fields of energy storage and management, networks, electricity meters, or software for network infrastructure.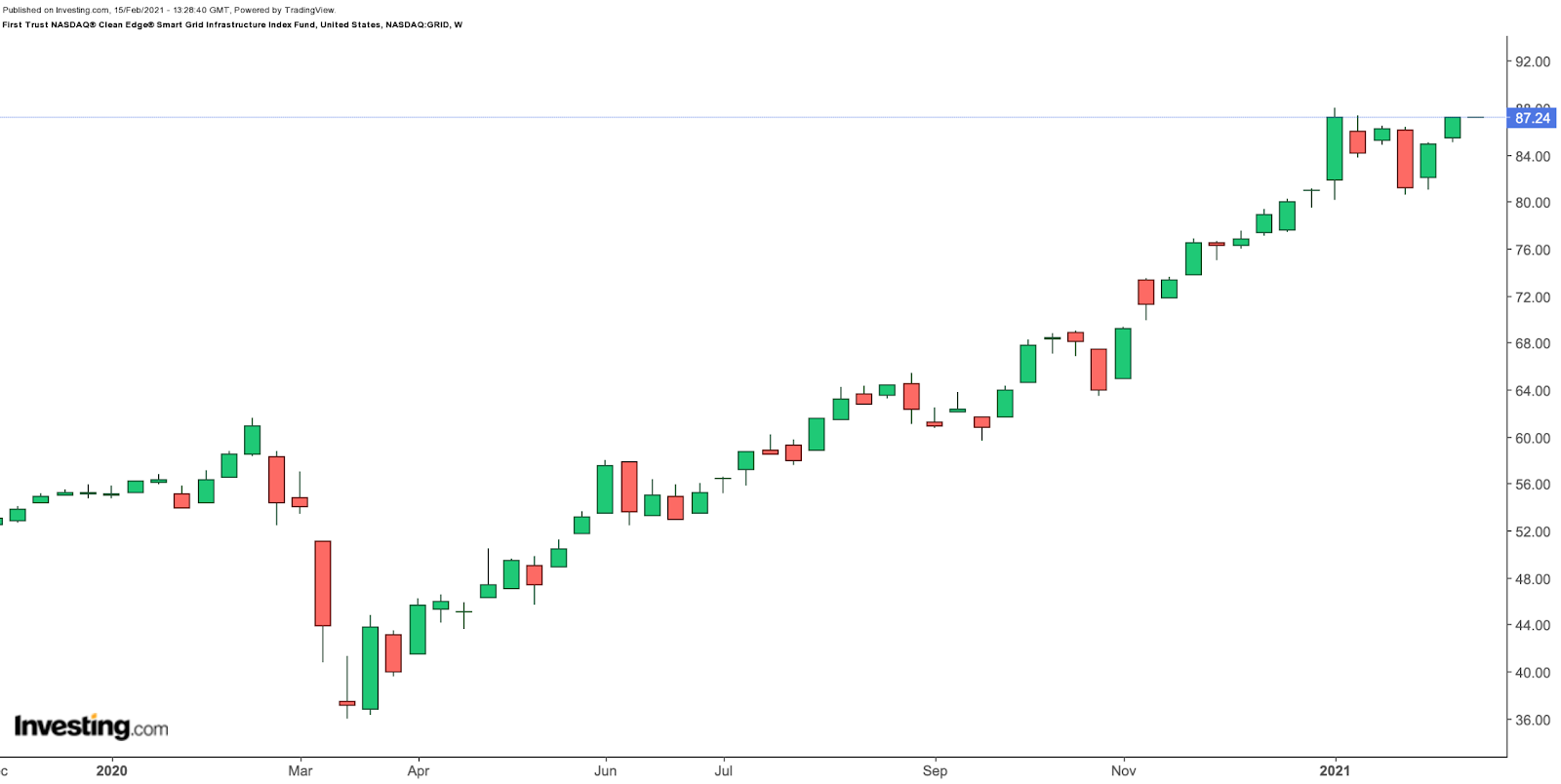 GRID with 64 assets, He follows his index. The fund started trading in May 2017 and has a net worth of approximately $ 215 million.
As an industry breakdown, the electronic equipment sector has the largest weight with 15.77%, followed by electrical parts and devices (14.48%) and diversified industrial products and services (11.64%). The top 10 companies in the fund account for 60% of assets.
Ireland based motor vehicle parts and accessories supplier Active (NYSE 🙂 and manufacturer of heating, ventilation and cooling (HVAC) products Johnson Controls International (NYSE :), French providing energy solutions Schneider Electric (OTC :), Switzerland-based electronic device and automation products group FIG (NYSE 🙂 and power management group Eaton Corporation (NYSE 🙂 is one of the leading names in the fund.
The fund gained 49% in the past year, benefiting from investor interest in clean energy brands, reaching a record high in January. A potential short-term decline towards the $ 82.5 level would offer a better entry point for long-term investors. We expect the profits of the companies in the fund to grow in the upcoming quarters.
Note: If you are interested in the financial products mentioned above but cannot find these products in your area, you may want to contact your brokerage firm or financial planner.
You can contact me for any questions or comments.
Editor's Note: Not all assets analyzed may not be available in all regional markets. Please contact an authorized brokerage firm or financial advisor to find similar financial instruments that may suit you. This content is for informational purposes only. Before making any investment decision, you should do your own detailed research.