Over the past 20 hours, San Francisco-based cryptocurrency exchange Coinbase, an anonymous crypto whale, and several other trading platforms have carried 425 million XRP, according to popular cryptocurrency monitoring service Whale Alert.
In fiat currency, this amount corresponds to $ 227,154,850 for XRP, which is traded at $ 0.534482 as of the time of publication.
Big Players Moved 425 Million XRP
Whale Alert detected four transactions carrying a total of 425 million XRP. The two largest were held by Coinbase, the largest US-based cryptocurrency exchange.
220.3 million XRP moved between their wallets, while sending 178.9 million XRP to an anonymous address. These details were obtained from the Bithomp platform that deals with XRP data.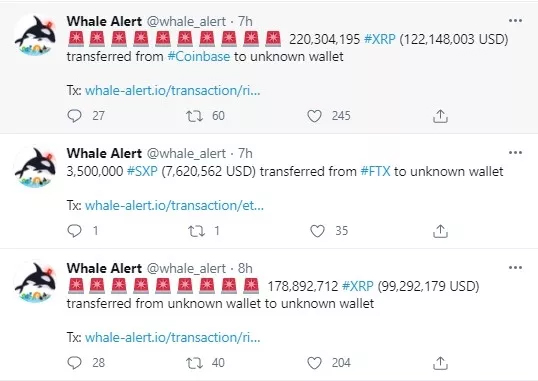 The other two transfers were handled by the OKEx and Kraken exchanges. These exchanges traded 10 million and 16 million XRP.
McCaleb Continues to Sell XRP
Information technology engineer Jed McCaleb, who helped found Ripple Labs and was the company's first CTO, sent 76 million XRP for sale at tacostand over the weekend.
Before that, it had released another 40 million XRP to sell. According to XRP researcher Leonidas Hadjiloizou, there are 2.896 billion XRP left in the CTO, which can be sold by the end of the year.