Bitcoin (BTC), the leading cryptocurrency, began experiencing a hard correction on Sunday. Bitcoin fell from an all-time high of $ 49,000 to $ 46,000 in the early morning hours of Monday. Despite Bitcoin's loss of 6%, there have been significant losses in double digits in the altcoin market. Here are three reasons for this decline:
1. Funding Stress
Stack Funds' COO and co-founder Matthew Dibb says about the fall:
"Bitcoin and other cryptocurrencies generally seemed overheated, and the drop in the Asian session was likely a 'fund reset' necessary for a move to exceed $ 50,000.
The cost of holding long positions in the continuous futures market, the funding rate, also known as the funding rate, rose to 0.109% on Sunday, the highest level of 12 months. This points to excessive leverage or overheating in the market.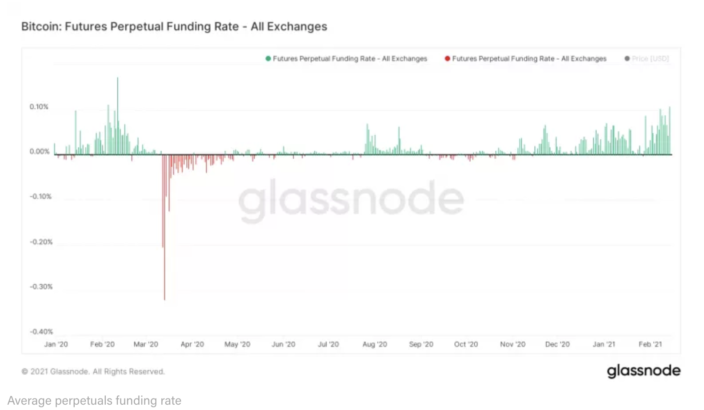 The funding rate average started to rise at the end of January and reached the highest level in recent months after Tesla announced its Bitcoin investments last Monday. This suggests that the recent rally under $ 40,000 was mainly due to leverage in derivatives. Therefore, there was always a risk of zeroing funds.
According to Coinalyze data, the price drop has already liquidated the $ 300 million long Bitcoin position.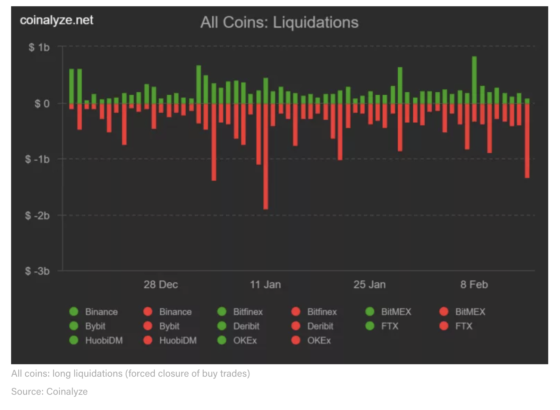 XRP, XLM, LINK, ADA and some decentralized finance-linked cryptocurrencies suffered double-digit price drops during the Asian session, overshadowing Bitcoin's 6% drop.
The altcoin rally has become "euphoric" last week, according to a tweet by market analyst Josh Rager. This means that a fix is ​​delayed.
2. Weakening of Institutional Demand
The Coinbase premium indicator of analytics firm CryptoQuant turned negative on Sunday, a sign of weak demand from major investors.
The indicator measures the difference between Coinbase Pro's BTC / USD pair and Binance's BTC / USDT pair. Since Coinbase Pro is identified with high net worth individuals and institutional investors, the indicator is widely followed by traders. A positive image means strong corporate entries, and a negative image is the opposite.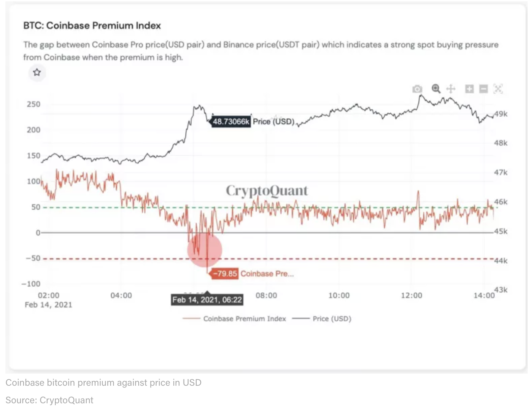 CryptoQuant CEO'su Ki-Young Ju, "On Sunday, as Europe experienced the first hours of the day, the indicator dropped to nearly $ -80 and remained largely neutral as the price ranged from $ 48,000 to $ 49,000" said. "Weak entries pointed to correction."
Increasing demand from high-net-worth individuals and institutions was largely driven by Bitcoin from a low of $ 10,000 to near $ 50,000 since early October. The cryptocurrency has consistently traded with an indicator of around $ 100 throughout the four-month bull market, and several negative indicators paved the way for the price retracement.
Market analyst Joseph Young attributed the drop on the market to this Coinbase indicator and the drop in entries to Grayscale, pointing at $ 48,000 as the level to surpass.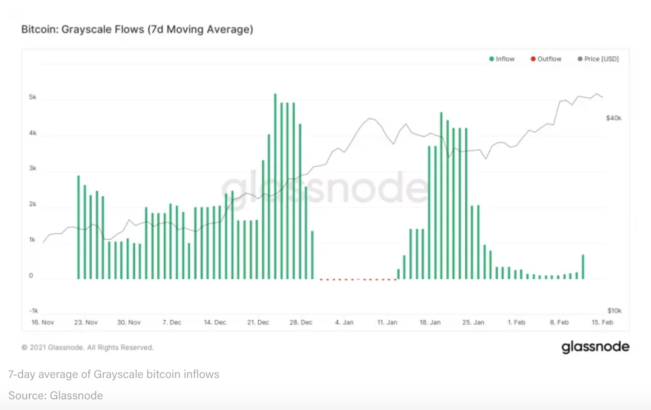 According to Glassnode data, the seven-day average of Grayscale entries peaked in mid-January and has been heading south since then. While retail investors trade on the spot market, many institutional investors buy Bitcoin through the Grayscale Bitcoin Trust (GBTC), a regulated institution.
3.Factors Based on the Graph
The rise from $ 30,000 to $ 49,000 was not supported by trading volume on major exchanges like Coinbase.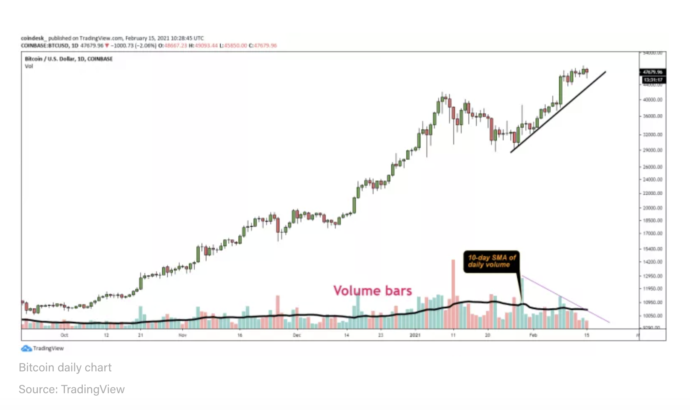 The 10-day moving average of daily volume has been falling since the beginning of February. A low-volume price increase is often short-lived and prone to sudden retracements similar to those seen earlier today. Bitcoin's recent price drop is typical of the retracements observed in previous bull markets.
BlockTower Capital CIO'su Ari Paul, "We're probably getting into a short and minor correction right now (I think), but we're still in the middle of a violent bull run that will soon become more violent." tweeted as.
According to analysts, more institutions could soon follow Tesla's move to convert their cash assets to Bitcoin, which could lead to a convincing move of over $ 50,000.
As of the time of release, the funding rate had reached a normal level of 0.05%, and Coinbase's indicator rose to $ 50. Bitcoin took back its gains and started trading above the $ 47,000 level.