The anonymous cryptocurrency analyst and strategist, who has a large following on Twitter, expressed that he expected an increase in XRP.
The trader, known as Credible Crypto in the industry, told his 113,100 followers that the cryptocurrency is likely to rally against Bitcoin (BTC) in the short term. The analyst said:
"Did I say I think XRP is going to explode? XRP growth rates are HIGH against BTC. The bet that XRP will outperform BTC at current levels is an extremely low risk, high reward bet. I'm taking."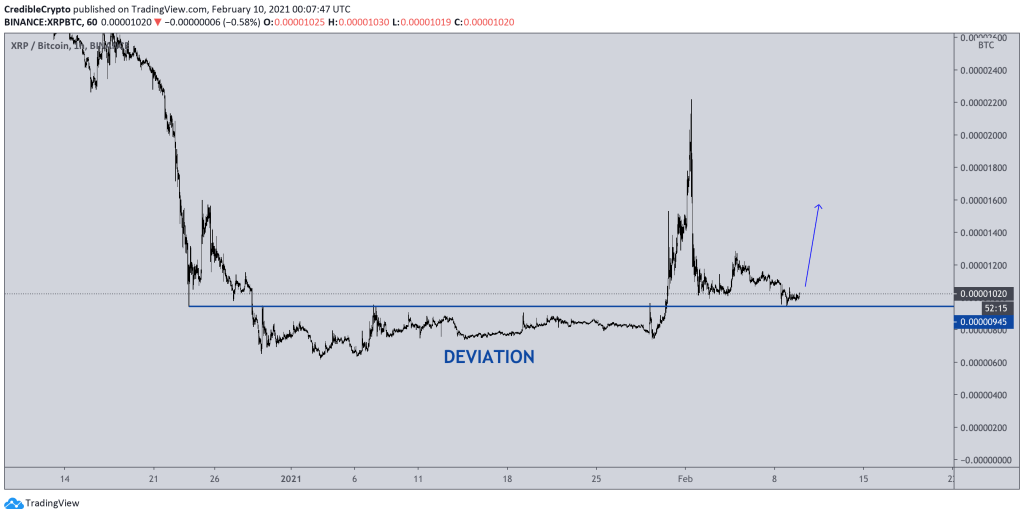 The price of XRP was hit hard in late December after the U.S. Securities and Exchange Commission (SEC) sued Ripple for alleging that the company had illegally sold the asset as an unregistered security. XRP then struggled for the price to rise, and earlier this month, XRP climbed above $ 0.70 for a short time, but has lost most of that floor since then.
Still, the cryptocurrency ranked fifth by market cap has seen a 30% increase in the past seven days, according to CoinGecko. XRP was trading around $ 0.58 at the time of writing.
Case Does Not Affect Performance
Despite the previous negative price action in response to the SEC case, the Credible Crypto lawsuit will affect the performance of XRP in the short term. not thinking.
"Well, the court decision (if it comes to that) is literally months away and therefore not a factor to be considered in the short term. Risk is identified because we have a clear point of override and if the current levels hold, the reverse potential is much greater. "
The analyst also believes that the potential of XRP is limited to $ 10 as the case continues:
"$ 30 was my highest estimate. $ 20-30 was my expectation. I still think the range is suitable, but due to the uncertainty around the SEC situation, I will probably start taking some profit as it approaches $ 10. "
$30 was the highest in my range- $20-$30 was my expectation. I still think that range is feasible but I will likely start taking some profits as we approach $10 due to the uncertainty around the SEC situation.

— Credible Crypto (@CredibleCrypto) February 10, 2021
Credible Crypto has posted bullish views on XRP multiple times over the past seven months.