The Whale Alert monitoring service reported that 610 million XRP has been moved from leading cryptocurrency exchange Huobi in the past 17 hours. This amount corresponds to $ 296,489,280.
According to data provided to the community by the Whale Alert cryptocurrency tracker, in the past 17 hours, the Chinese-based Huobi exchange has carried about 600 million XRP (about $ 296 million) in three transactions. Transfers carrying 100 million, 200 million, and 300 million XRP were moved between the exchange's internal wallets, possibly between hot and cold wallets.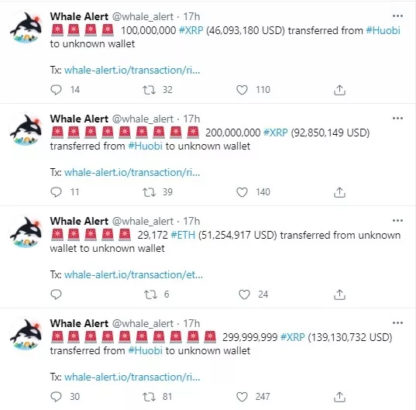 Whale Alert noted in a separate tweet that an anonymous crypto wallet sent 10 million XRP to Binance. According to data from the Bythomp analytics provider, it was the Coinbase exchange.
After holding at $ 0.46 on Tuesday, XRP managed to rise to the level of 0.53, according to CoinMarketCap data. As of the time of publication, it is trading at $ 0.48.
XRP rose from $ 0.37 to levels of 0.50 as Bitcoin and Ethereum rose. Ethereum, on the other hand, rose from $ 1,524 to an all-time high of $ 1,826 it is re-setting today.
Bitcoin, the leading cryptocurrency, has hit an all-time high of $ 44,000 and $ 48,000 twice in a row since Monday, Feb. 8.
Both ATHs came after it was revealed that Tesla had invested almost 10% of its reserves, or $ 1.5 billion in Bitcoin.