Crypto whales seem to be fueling the flames of their spikes by buying two altcoins too much. According to crypto data analytics firm Santiment, large investors are massively turning to the two decentralized finance (DeFi) assets.
Keeping track of the movements of elite cryptocurrency holders can help investors get a good idea of ​​where an asset's price might go. In this context, the whales seem to be lining up to buy the money market protocol Aave and the interoperability protocol Ren.
Aave, which rose 67% last week, is being rapidly deposited by Aave whales, according to Santiment:
"DeFi is alive and well in the cryptocurrency industry as AAVE has made 33% gains the other day.

The Aave whales, which we see as addresses holding 1,000 or more AAVEs (about $ 397,000), sparked the rally, rising from 266 to 327 last month.
Another DeFi presence in the Rhine, which has increased by 58.8% in the last 7 days, has seen an increase in whale addresses:
"The amount of rhine whales (wallets with at least 1 million REN) has jumped from 81 to 89 the other day.

This is the highest amount seen since August 15, 2020. The 23-week high for this type of wallet is usually an indication that great things are going to happen "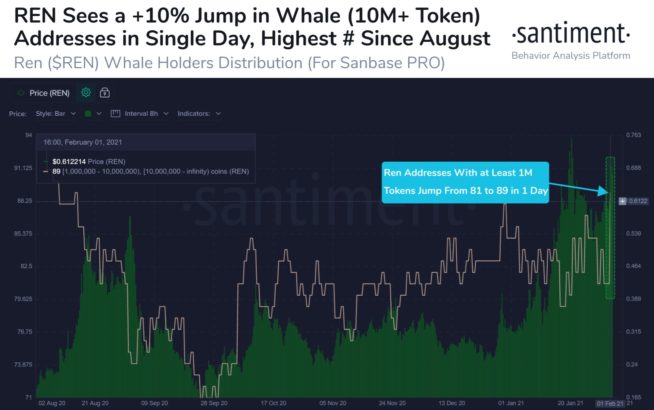 Santiment is watching the whale accumulation of several more altcoins. The firm reports that Band Protocol's (BAND) whale wallets (having more than 10,000 BANDs) have increased by 33 in the past four months.
Binance's BNB and yearn.finance's YFI asset both have lost a significant amount of whale wallets in the past three days, while whales holding Celsius have dropped significantly compared to last year.