This article was written in English on 01.02.2021, translated and published on this site.
Volatility in the stock markets is now up. The current situation reminds many investors of the importance of diversifying, such as keeping defensive assets in portfolios. Under current low interest rate conditions, passive income seekers may be looking for ways to add income generating products to their portfolios.
Different assets may be appropriate in the search for stable returns, especially when volatility and downstream risk potential arise. One such product that has recently attracted attention is a hedged call option fund.
Let's take a closer look at the world of protected call options.
Options Have Different Purposes
Options are derivative (or secondary) financial instruments. The value of an option contract is based on an asset such as a stock, index, bond, commodity or currency.
An option has a buyer and a seller. A "call" or "call option" gives its holder the right to purchase the underlying asset at a specified price for a fixed period specified in the option contract.
Option contracts have expiration dates and the contractors must decide whether they will exercise the option by that date. In the US, for example, monthly stock options usually stop trading on the third Friday of the expiry month. So, monthly stock options expiring in February 2021 will stop trading on Friday, February 19.
The buyer of a monthly share option has the right to purchase the underlying asset from the option seller at the agreed amount and price until the trading ends on the third Friday of the month, but has no obligation to buy. Technically speaking, the actual deadline is usually Saturday following the third Friday. However, options stop trading on the third Friday.
This limited timeframe of an option contract creates unique implications for both the buyer and the seller. According to academic research:
"Options are mechanisms for trading on information about future stock volatility … The trading flows of options carry information about the future direction of the underlying asset."
Option contracts provide higher leverage, allowing for both higher potential profit and potential loss. These contracts can be used by both individual traders and financial institutions and companies for speculation or protection purposes as part of a risk management strategy.
GameStop (NYSE:) ve AMC Entertainment What happened in stocks like (NYSE 🙂 revealed the increasing use of options in stock markets and the potential impact of these contracts on both portfolios and the function of the overall markets. In the past week, many brokerage houses imposed temporary share and / or options trading restrictions on some securities, causing heated discussions among market participants.
Finally, companies that are not in the stock market also use derivatives. For example, options are important risk management tools for exporters and importers in hedging against exchange rate risk.
Covered Buy Options for Revenue Generation
An option contract usually represents 100 shares of a company. Therefore, in order to create a hedged call option strategy, a trader must have 100 shares for every call option contract he plans to sell. In this position, a trader writes a call option for a stock he already holds or is currently buying.
If an investor buys 100 shares of a company at the same time and opens a call option against this position, this is called a "buy and sell" transaction. Thus, the position is created on a share basis.
When an investor opens a hedged call option, he sells another investor the right to buy 100 shares at a specified price within a specified time period.
Option buyers must pay a certain amount of "bonus" to sellers so that sellers' goal is to earn income through this premium.
A protected call option is a protected strategy because the seller can surrender shares if the option is exercised. Covered call options are one of the most used option strategies. However, their use in rising market conditions can suppress returns.
Nuveen NASDAQ 100 Dynamic Overwrite Closed End Fund
Current Price: $ 25.86
52-Week Range: $ 15.24 – $ 27.12
Current Distribution (Quarter): $ 0.39
Monthly Equivalent Distribution: $ 0.13
Distribution Rate at Market Price: 6.00%
Net Cost Rate: 0.94% per year
The Nuveen NASDAQ 100 Dynamic Overwrite Closed End Fund (NASDAQ: QQQX) allows investors to generate cash flow from the sales of call options in 35-75% of the stock portfolio, while participating in some of the returns of the NASDAQ 100 Index.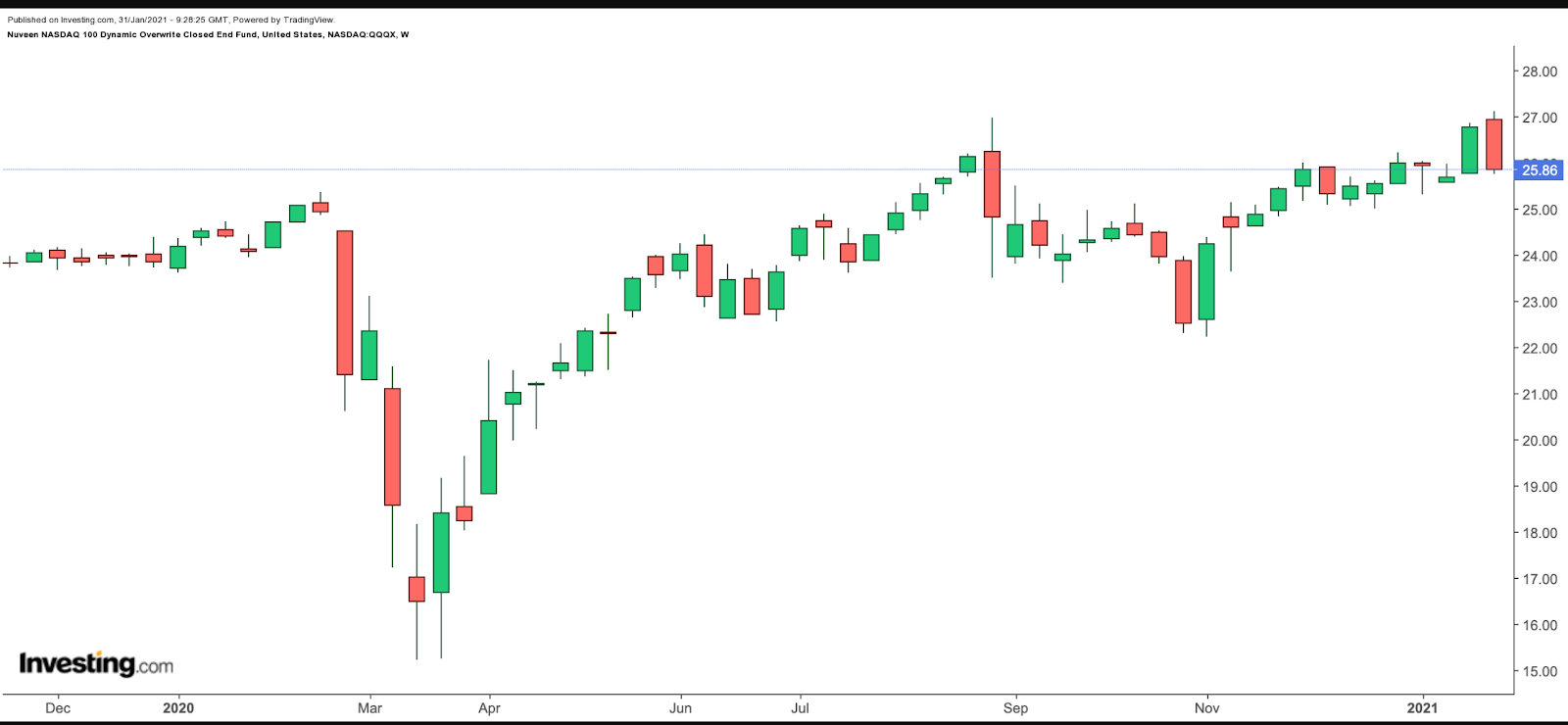 Fund managers define their goal as achieving an attractive total return with a lower volatility than the NASDAQ 100 Index. When executives believe the index will remain stable or fall overall, it generates additional cash flow from the increase in call option sales by increasing the percentage of hedged call options to get higher premium payments.
On the other hand, when they think that the markets will continue to rise, they decrease this percentage. Currently, call options have been opened for 58% of the underlying shares.
QQQX; a closed-end fund (CEF) that is traded like a share or an exchange-traded fund (ETF). Closed-end funds generally share a lot in common with ETFs. Nuveen NASDAQ 100 Dynamic Overwrite Closed End Fund began trading in January 2007, with total assets managed at $ 1.1 billion.
The fund currently has 119 shares. The top 10 shares make up more than 70% of the fund. Apple Inc (NASDAQ :), Microsoft Corporation (NASDAQ :), Amazon (NASDAQ :), Alphabet (NASDAQ 🙂 and Facebook are among the leading names of the fund.
In addition to the quarterly distribution payments, the fund has increased by close to 6% in the past year. In other words, the quarterly revenue generated was not at a loss on capital and the fund managed to capture some of the NASDAQ 100's gains.
However, we should remind you that in the past 12 months, the NASDAQ 100 has risen 42%. Due to the risk / benefit profile of a hedged call option strategy, it is not possible for an ETF like QQQX to exceed the NASDAQ 100's returns.
Investors interested in dividend earnings and potential capital gains in current volatile markets may consider conducting an in-depth review of the fund.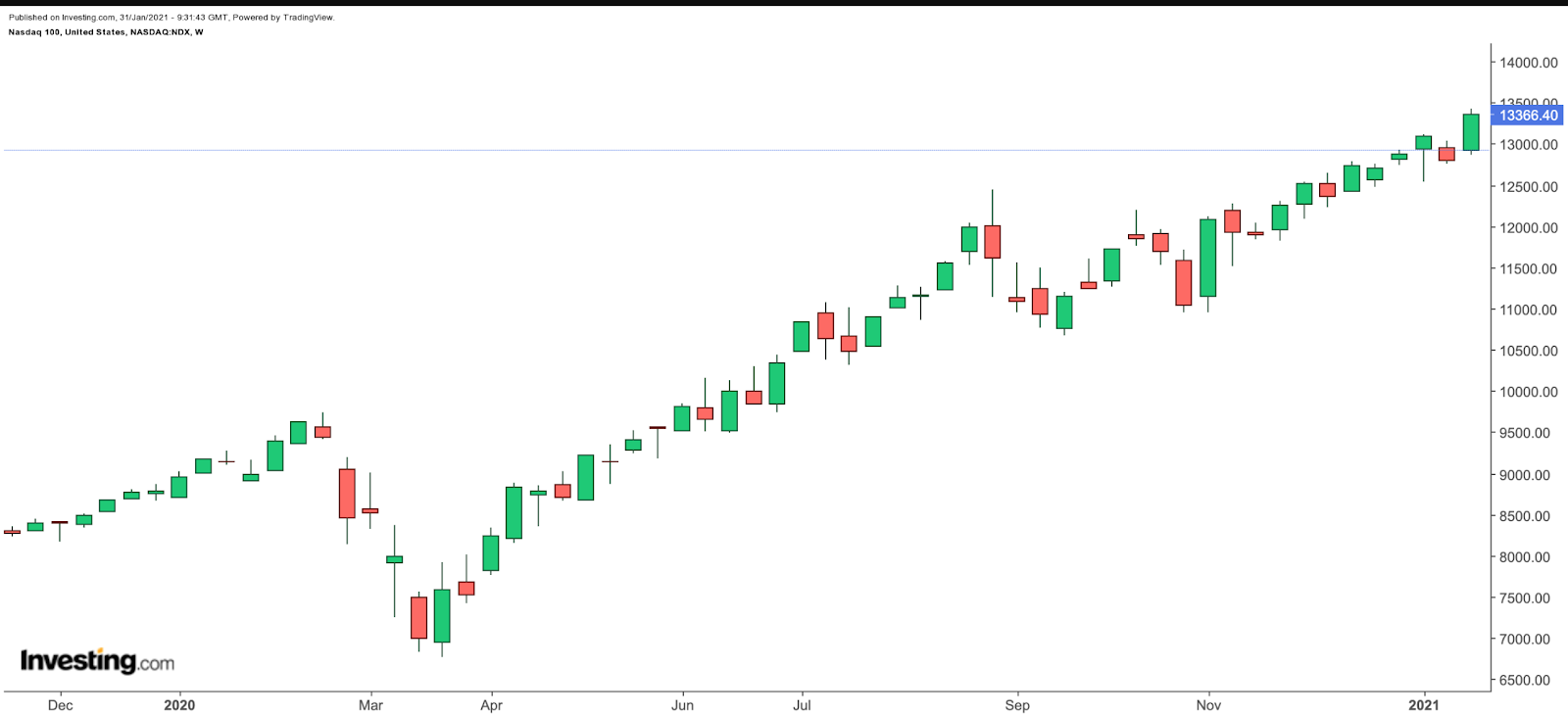 Not: If you are interested in the aforementioned financial products but cannot find these products in your area, you may want to contact your brokerage firm or financial planner.
You can contact me for any questions or comments.
Editor's Note: Not all assets analyzed may not be available in all regional markets. Please contact an authorized brokerage firm or financial advisor to find similar financial instruments that may suit you. This content is for informational purposes only. Before making any investment decision, you should do your own detailed research.